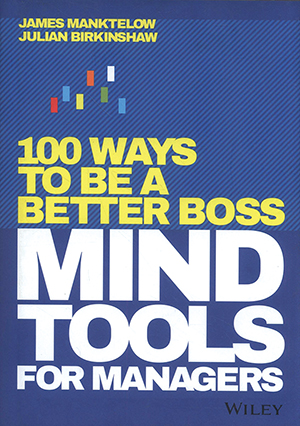 Like any good flight attendant will tell you, "Place the oxygen mask on yourself before assisting others around you." This sage advice also applies to managers and is the foundation that coauthors James Manktelow and Julian Birkinshaw circle back to as they delve into other related topics. Being a great boss requires a diverse skill set, and improving as a manager starts with self-understanding.
Through a series of simple activities and examples, the authors show how to recognize your strengths and capabilities (as well as weaknesses and shortcomings), manage your time and stress more effectively, and establish the work-life balance needed for long-term career success. Once you've taken care of yourself, they assert, then your focus can turn to additional tools for managing tasks and the people who do them, communicating effectively, hiring and nurturing great teams, and resolving conflict. With this advice, Manktelow and Birkinshaw show how you can become a manager who people want to follow, not just someone they have to follow.
While most of what a boss does has an internal focus, managers can't ignore the external environment and stakeholders. For the manager who's ready to take on greater challenges and responsibility, Mind Tools for Managers concludes with advice for managing the economic context in which the company operates while simultaneously managing employees' reactions to the change that's necessary to stay relevant and competitive in a dynamic business environment.
Manktelow and Birkinshaw recognize that there's no "one-size-fits-all" method to being an effective manager, so they explain various approaches in short summaries, with links to additional resources and activities on the mindtools.com website. Beyond the 100 tips offered in the book, those links will provide even more tools that you can add to your management tool kit.