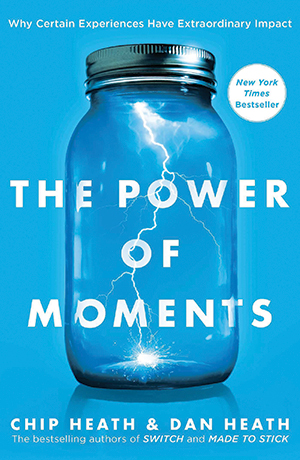 The authors describe four tools that can be used to create peak moments: elevation, insight, pride, and connection. These tools are already used for special occasions we currently celebrate, such as weddings, birthdays, or funerals. Peak moments can be created in all aspects of our working life with some effort and creativity to provide lasting impressions.
The authors make a strong argument that these peak moments will deliver results to the bottom line. Southwest Airlines is used as an example when it inserts funny anecdotes into the safety announcements. This small, cost-free change increased the likelihood that the passengers on these flights were more likely to fly on Southwest flights in the future. The authors report that simply increasing the number of flights that heard these announcements resulted in an estimated gain in revenue of $138 million annually!
An important part of creating these moments is making them unique. The authors provide a warning to readers: "Beware of the soul-sucking force of reasonableness." The Magic Castle Hotel in Los Angeles did this, for example, by creating the Popsicle Hotline. Simply pick up the red phone by the pool, and an employee will take your Popsicle order. Within a few minutes, it will be hand delivered on a silver platter for no charge.
The hotel created a peak moment for their guests instead of simply having a cooler next to the pool filled with Popsicles. As a result of creating moments like this, the Magic Castle Hotel is consistently rated as one of the top hotels in Los Angeles even though most of the experience staying there is merely average.
The Power of Moments challenges readers to be more intentional in creating experiences that will have a lasting impact. Doing this can improve employee satisfaction, drive customer loyalty, and provide everyone with more memorable learning experiences.