The aspiration was to have better representation of the global community that IMA has become and thus to better serve—and represent the needs of—our full membership. What this means is that through IMA's focus on diversity and inclusion (D&I), we're creating tangible value for the organization and its members by making more voices heard.
As accounting and financial professionals, we're often involved in strategic planning and improving operations in our companies and organizations. So you can recognize how having more voices being heard links to improved access to ideas and possibilities through collaborative problem solving and innovative solution development. An organization is more likely to have its customers' views represented when it has a diverse and inclusive workforce.
When the voice of the customer is better heard and understood, then customer satisfaction is likelier, which contributes to loyalty and growth. Quality products and services lead to happy customers, which lead to successful organizations with increased value. Innovative solutions can also make internal processes more effective and thus lead to additional value as well.
D&I RESEARCH
In "Differences make a difference: Diversity in social learning and value creation" in the Journal of Corporate Finance, Yiwei Fang, Bill Francis, and Iftekhar Hasan analyzed value creation based on the diversity of the CEO's social network. The study revealed that having a network of diverse perspectives and connections allowed for better access to novel approaches and promoted the utilization of alternative solutions. A higher degree of diversity weakens artificial social barriers, allows new concepts to be shared more freely, and minimizes groupthink.
In "Diversity Matters," a report from McKinsey & Company, Vivian Hunt, Dennis Layton, and Sara Prince found that there are also benefits in having diversity within the organization's leadership (see "D&I: Getting Started" for McKinsey's tips on implementing D&I). The companies in the top quartile of gender diversity were 15% more likely to have financial returns that were above their national industry median. Companies in the top quartile of racial/ethnic diversity were 35% more likely to have financial returns above their national industry median. The results varied by country and industry. An inclusive organization with an intentional program to focus on diversity will have increased satisfaction and more success in talent acquisition, but it can't just be a token effort.
As participants in a global economy, we must continue to evolve in our understanding of various cultural differences and requirements and be more inclusive of them. The more we can be open to cross-cultural knowledge, the better informed we are to make decisions on D&I initiatives. The results of the study suggest that this expanded knowledge is the primary driver of performance and value creation. For example, a correlation was found between diversity within an organization and the number of patents that company generated.
HOW TO GET THERE
There are various ways to improve the D&I within your organization or network. One avenue is through employee acquisition and retention. PricewaterhouseCoopers has trialed blind reviews when analyzing résumés to minimize unconscious bias when evaluating applications. They've also worked on having gender-balanced interviews for a more inclusive process. In regard to performance reviews, they have an "inclusion conscience" representative present to help evaluate whether any inclusion roadblocks are hindering team members' success.
Pay gap analysis has also been an important initiative. As a firm, PricewaterhouseCoopers has been conducting pay gap audits to identify and close those gaps both internally and for clients. Salesforce.com conducted a similar gender pay gap audit recently, finding there was indeed a gap, and resolved the issue by bringing compensation of female employees up to the same levels as those of men doing the same work.
To gain the maximum benefits, the principles of D&I need to be integrated into the organizational culture and corporate values. Leadership, particularly the C-suite and the board of directors, will have to fully support the program and lead by example. Only with support from the top will it be able to become part of the way we all work.
Another key element is to have all employees exposed to the D&I concepts and goals to ensure that they're consistently communicated throughout the organization. D&I should also be embedded in the strategic planning process so that the appropriate resources can be invested and deployed to help better achieve overall goals. To attain real value creation, the initiative has to go well beyond optics. As with any program, monitoring processes should be developed to foster success.
DIFFERENT APPROACHES
The size of your organization and the extent of the reach of your products or services may impact the approach to D&I programs. I currently work for a healthcare organization that has a service area smaller than 5,000 square miles. The operations here are different in some ways from those of the international manufacturer I previously worked for, which had offices and manufacturing throughout the world. At either extreme, the benefits of D&I can still be achieved. The objective should be to improve the D&I within the organization to better serve all stakeholders, not just shareholders. By collaborating with a wider number of stakeholders to include their various ideas for processes, products, and services, you're better positioned to innovate and add more value. Remember that inclusion is the factor that magnifies the benefits of diversity.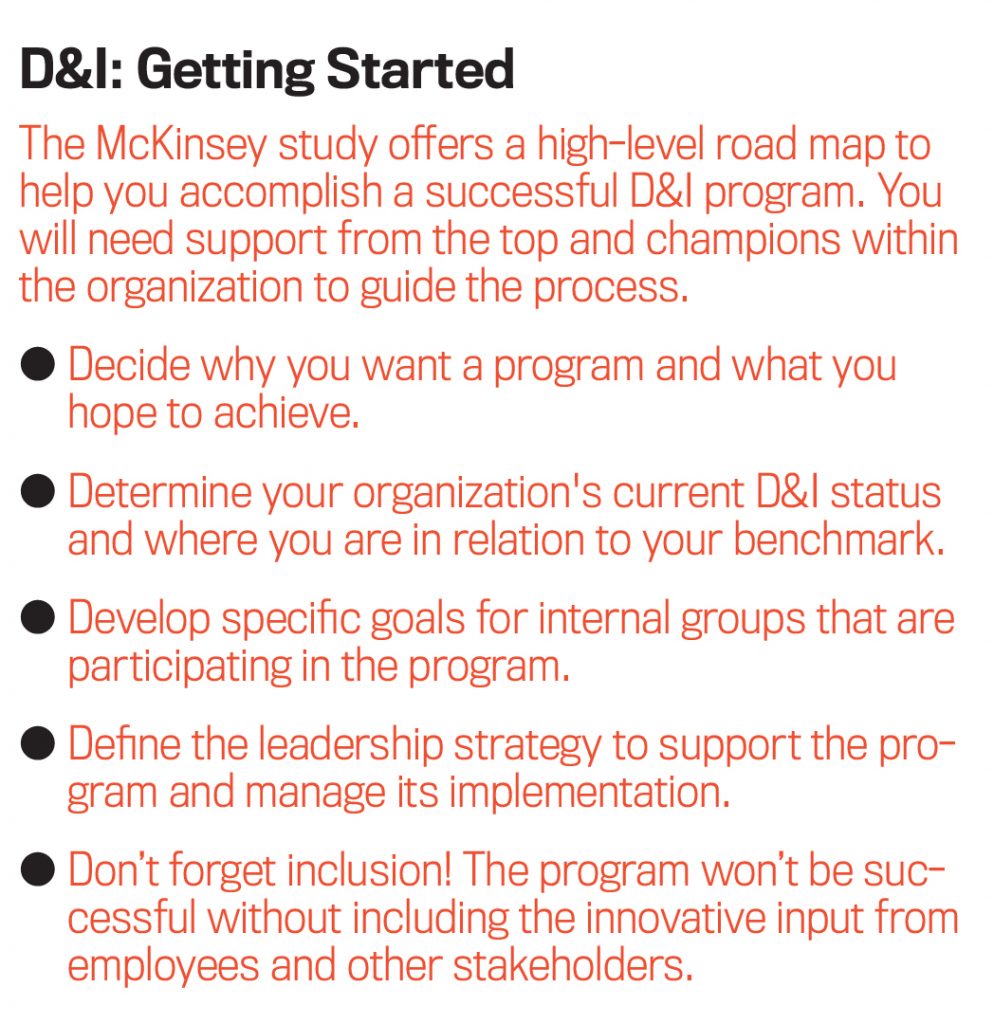 With the understanding that value is increased through these initiatives, D&I can move beyond a required program to a desired goal. Although we all can appreciate the cost in investing in D&I development, the research supports a solid return on investment. As financial professionals, that's something that all of us can welcome.