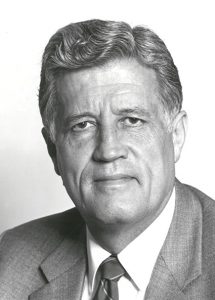 He had been working in management accounting at Shell Oil Company for more than 30 years and almost immediately became a member of IMA's Management Accounting Practices Committee, serving in 1983-92. He was the Committee's chair in 1986-89. He became a member of the Board of Directors in 1991, a committee vice president in 1992-94, and program chair for the 1993 Annual Conference in San Francisco, Calif.
After 45 years with Shell, he retired in July 1994 as assistant controller. An executive who spent his entire career wrestling with accounting issues, throughout the years he served as IMA's representative to a number of accounting bodies, including the Financial Accounting Standards Board (FASB) Emerging Issues Task Force.
When he became IMA President, he said the Institute's mission "is helping current and future IMA members ready themselves for the challenges facing management accountants." A strong advocate for the CMA® (Certified Management Accountant) certification, he called it the premier professional program of IMA and vowed to help others see that "its relevance to the business world is unchallenged."
He also was active in Financial Executives International (FEI) and was named to its Hall of Fame in 2012. A CPA (Certified Public Accountant), he was involved in the American Institute of CPAs (AICPA) and the Texas Society of CPAs.
In 1944, he joined the U.S. Navy ROTC and then the U.S. Navy Reserves where he was active until 1986 when he retired as a USN Supply Corp Captain. In 1949, he graduated from the University of Washington with a degree in economics and business.
A devoted family man, Bill was married to Shirley Jeannette Ihlanfeldt for 56 years until her death. He is survived by his wife, Edith Bell Ihlanfeldt, four children and their spouses, 10 grandchildren, and 12 great-grandchildren.