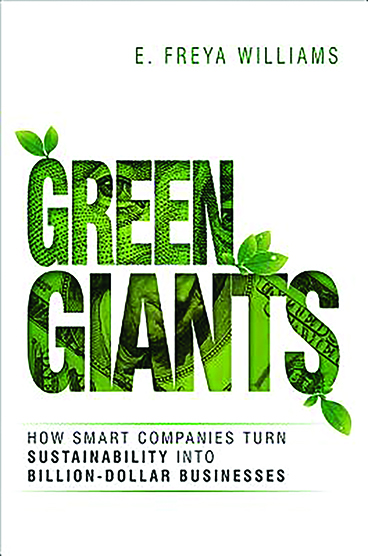 Williams's book lays out studies of the nine companies that she defines as green giants, including Chipotle, IKEA, Unilever, and Tesla. These companies aren't held out to be perfect representations of a totally green company but instead are companies that have been able to integrate sustainability into their structure and culture in such a way as to drive revenue.
Williams outlines the performance of each company using the six factors she has identified to be successful as a green giant. These six factors include:
An iconoclastic leader: the person with the conviction and courage to initiate the drive.
Disruptive innovation: the change that totally redefined a product category.
A higher purpose: the driving social purpose behind the change.
Built in, not bolted on: embracing sustainability at the company core and not just as a side benefit.
Mainstream appeal: to be not just green, but a green giant, the product needs to be widely consumed.
New behavioral contract: "your behavior is your brand."
Williams uses anecdotes and discussions of successes and failures to draw the reader in and help them identify with the companies being profiled. She helps the reader to see these qualities are relatable and not out of reach. The evidence used to support these claims lays groundwork to show others how businesses both large and small can drive a green initiative and that they may already be doing so.
Green Giants doesn't lay out a step-by-step plan to become greener. Instead, it guides the reader through the intangible requirements for a company on its journey to becoming greener.