The theme of ACE2017 was "Elevate Your Perspective," and Alex Eng, IMA Global Chair for 2017–2018, described it as "rising above preconceived notions of management accounting, raising your visibility beyond the numbers and financial statements. It's about integrating the bigger picture that comes into view once you've developed the good sense and financial judgment that IMA and the CMA stand for."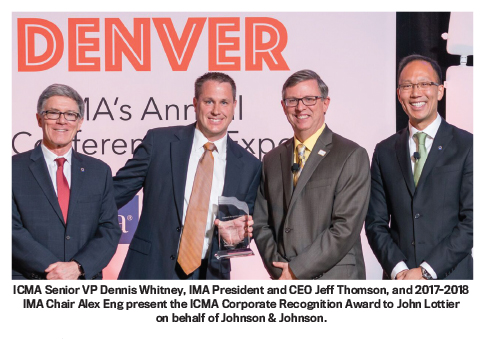 A new feature at this year's Conference were the specialty tracks, which included planning, budgeting and forecasting; small business and M&A; ethics; technology; financial close and reporting; leadership and professional development; accounting hot topics; and governance, risk management, and internal controls. The goal of these tracks was to provide management accountants with specific knowledge relevant to their jobs.
General sessions also featured diverse and knowledgeable speakers who presented on a variety of timely topics, including "Achieving your Goals" by Daymond John, founder and CEO of FUBU, costar of ABC's Shark Tank, and CEO of The Shark Group; "Leveraging ERM for Innovation and Growth: The Force Awakens!" by Patrick Stroh, president of Mercury Business Advisors, Inc.; "Nerd Know-How: A Day in the Life of a Nerdy Management Accountant" by Beth Ziesenis, speaker, author, and nerd at Your Nerdy Best Friend; "The Business Imperative of Healthcare Transformation" by Bob Kolodgy, executive vice president and CFO of Blue Cross Blue Shield Association (BCBSA); "GAAP and Non-GAAP Disclosures: Latest Developments and What You Should Know" by Marc Siegel, board member of the Financial Accounting Standards Board (FASB); "Trek to the Top: My Journey to the CFO Summit" by Laurie Brlas, former executive vice president and CFO of Newmont Mining Corp.; "The Multiplier Effect of Inclusion" by Tony Byers, former director of global diversity and inclusion of Starbucks; and "Disruption Off–Innovation On!" by Terry Jones, founder of Travelocity.com, founding chairman of Kayak.com, and current chairman of Wayblazer.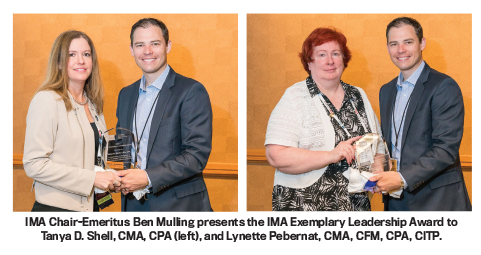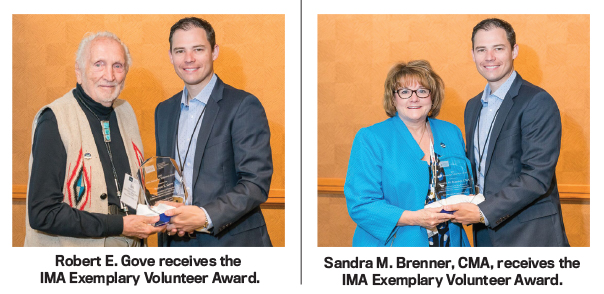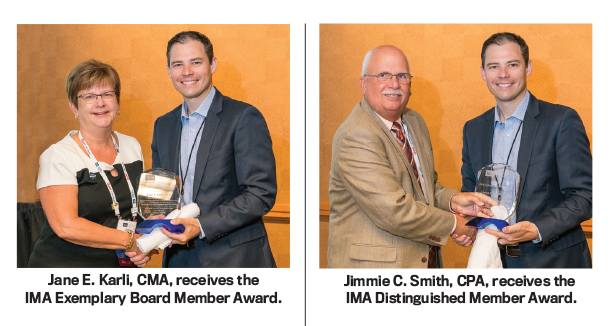 One of the most valued benefits of attending a live event is the ability to network with peers, colleagues, and leaders in the profession. This year, ACE2017 featured more opportunities to make new connections than ever before. Attendees enjoyed "Beers with Peers" at Wynkoop Brewing Company, playing pool, shuffleboard, and other games while enjoying good conversation in a relaxed atmosphere. Attendees also participated in the new "Membership Mingle" where they learned about the benefits available to them as IMA members, such as volunteer and leadership opportunities and the CMA
®
(Certified Management Accountant) and CSCA™ (Certified in Strategy and Competitive Analysis) certifications. The Solutions Showcase once again allowed attendees to network with each other and exhibitors who offered solutions for attendees' business needs.
Throughout the Conference, members and supporters of IMA were recognized for their outstanding achievements and contributions to the management accounting profession. During the Annual Meeting of Members and Conference Kick-Off, Ping An Insurance of China was honored with the Bulloch Award for its outstanding sponsorship and support of the CMA program. The Corporate Recognition Award was presented to Johnson & Johnson for consistently encouraging and sponsoring employee certification and supporting the CMA program.
Another highlight from the Annual Meeting of Members was the recognition of the winners of IMA's first-ever CMA Video Contest. Students Patricia Adora G. Alcala, Alexis Paul M. Rodriguez, and Monique N. Eballa and their faculty advisor, Carlito M. Rodriguez, received a standing ovation for their inspirational video, "I Will Earn It," which captured the effort, determination, and dedication it takes to earn the CMA certification. Though their fellow teammates, ­Fernando P. Tiu, Jr., and Angelo B. Manzano, were unable to attend in person, the whole team was celebrated by everyone at the meeting.
High-achieving chapters and councils of IMA were recognized during a private luncheon. The Dubai-UAE Chapter won the Chair Award, which is the top honor given to the chapter with the highest consistently superior performance over a period of five years. The Kasunic Award, which goes to the runner-up chapter with the best and most consistent five-year performance, was given to the Minne­apolis Chapter. The IMA Publications Awards were also presented during this luncheon and acknowledged those who have impacted the management accounting and finance profession through their articles in IMA's professional publications.
During the Closing Ceremony, 2016-2017 IMA Chair Marc Palker passed the Presidential Badge of Office to Eng, who said, "I'm looking forward to the challenges ahead as we finish the last year of the first century of this great organization, with the tradition of competency, credentials, and lifelong networking."
To see pictures from the event, visit IMA's Facebook page at www.Facebook.com/IMAnetORG.