That translates to almost two million people per year visiting Waco, Texas, to shop there. The impact on tourism has been tremendous. The Waco Convention & Visitors Bureau promotes the Magnolia Trail, a self-guided tour of all things related to Fixer Upper. Waco has experienced a 19% growth in hotel revenues in the past year. Just the demand for parking alone has led to the creation of the new Silo District Trolley.
The excitement surrounding Fixer Upper has overflowed to other Waco attractions from the Waco Mammoth National Monument to the Texas Ranger Hall of Fame and Museum to the Dr Pepper Museum (the product was first blended in Waco). Waco also is the home of Baylor University, which named Chip and Joanna its 2015 Alumni of the Year.
With Fixer Upper, Chip and Joanna take raw material that is "rough around the edges" and use skilled labor and resources to improve a house so that its beauty and potential are highlighted. As academics, we apply the same model to the university experience. Students who enter Baylor, like those at other universities, have a great deal of potential but still need development so that they're able to pursue an accounting career.
An accounting education requires that students and faculty expend a great deal of effort to build the skills needed for a successful accounting career, such as those that IMA® (Institute of Management Accountants) has detailed for management accountants in the IMA Management Accounting Competency Framework. This process requires a commitment of both time and finances, but the investment provides the knowledge and skills needed to start an accounting career. Just as the home-improvement industry transforms raw materials, the university affords the resources needed for students to begin their accounting careers.
How have we applied the Fixer Upper model to take students through this transformation? In Fixer Upper, Chip and Joanna often like to use shiplap, a type of roughly sawn wood paneling, in their projects. Following in that spirit, the accounting program at Baylor University uses its own version of SHIPLAP (see below) to help identify which principles are valuable for developing students to enter a management accounting career so that their full potential is evident.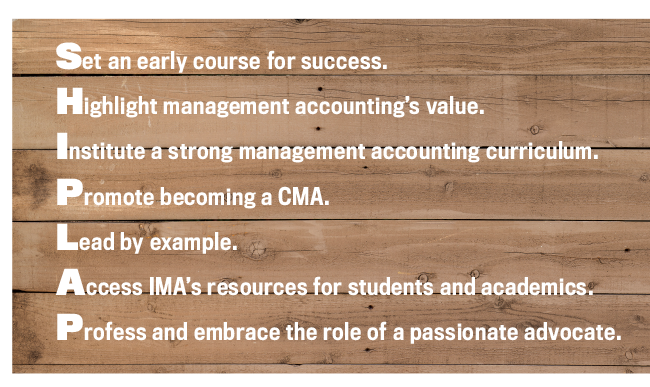 SET AN EARLY COURSE FOR SUCCESS
Preparation for a management accounting career is particularly important, as more than 80% of accounting students ultimately pursue that career path. Yet most students enter an accounting program having only heard about public accounting, and they equate accounting with this career path. This tends to get reinforced by the structure of academic accounting course offerings and program cultures. Given the nature and funding of accounting academics, preparation for public accounting careers will continue to dominate initial graduate placement in the United States. At the same time, the luxury of offering more management accounting classes may not be possible for many of us.
Yet if we listen to the market and students, we see how important it is that we prepare students for the careers that they desire and that the business world needs. The need to align our students' preparation with their future career goals is reflected in the words of Stephen R. Covey: "If the ladder is not leaning against the right wall, every step we take just gets us to the wrong place faster." That isn't meant to imply that other career choices are wrong but rather that our goal as educators is to provide a direct path to whichever career a student is passionate about. Our vocation is about challenging students to learn but also to open their eyes to opportunities so they can choose the path that fits.
HIGHLIGHT MANAGEMENT ACCOUNTING'S VALUE
At Baylor, we host an industry career dinner for all of our junior accounting majors each fall, which is usually the first of a series of events encompassing career choices. At this function, students are given the opportunity to meet and chat with representatives from various corporate sponsors. Our goal is to send an early signal that this career option is important. One of the rewards of being an academic is students' gratitude for encouragement to pursue the career path for which they are passionate.
Signaling to students the value of a professional management accounting career should be a given, but since U.S. accounting programs are geared, by the nature of the curriculum and public accounting presence, toward CPA (Certified Public Accountant) careers, it doesn't always happen. Careers in both public accounting and industry accounting have pros and cons. Which career path is taken depends on each student's vision and interests. It's important for faculty to validate both career paths as engaging and challenging, yet different, options. At Baylor, we've made strategic decisions about management accounting within our program, such as becoming an IMA Endorsed School in IMA's Higher Education Endorsement Program and hosting the industry dinner (see "Industry Dinner Insights" below) to signal to students that this career path is an equally attractive choice for professional accountants.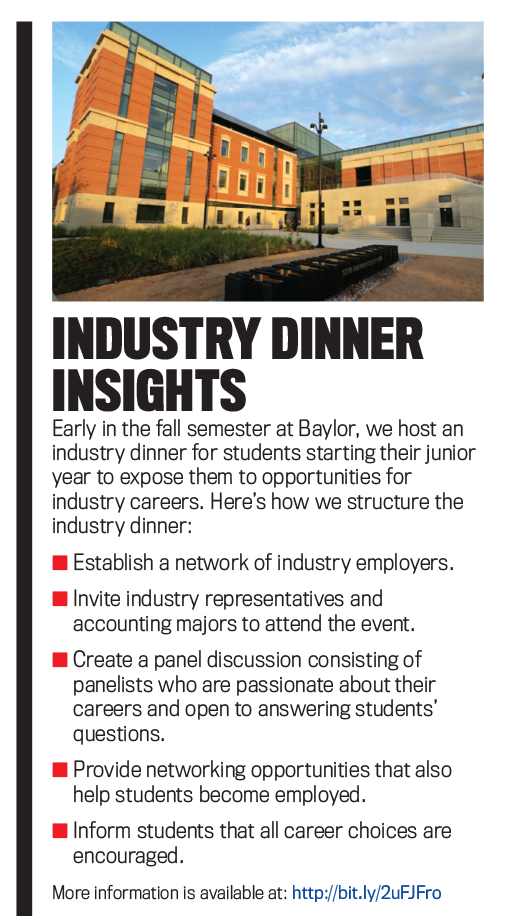 INSTITUTE A STRONG MANAGEMENT ACCOUNTING CURRICULUM
Accounting is often referred to as the language of business. In reality, though, it's a language that many people in business can't speak or interpret. Accountants themselves sometimes struggle to fully understand the impact on organizational decisions contained in the financial data. Thus, while the role of the management accountant extends far beyond financial information, it's within this role that an accountant is most challenged to become an effective communicator—that is, to identify relevant information and translate it into a format that's useful to others within the organization. As such, management accounting is a dynamic profession that interacts with and integrates information from all areas of the business, serving as a vital partner in decision making and the operations of the organization.
To many accounting students, integrating accounting within the broader business function provides a rich, rewarding work environment. The challenges that are available on this career path are reflected in IMA's definition of management accounting as "a profession that involves partnering in management decision making, devising planning and performance management systems, and providing expertise in financial reporting and control to assist management in the formulation and implementation of an organization's strategy."
So at Baylor we're working to get the most we can out of the advanced managerial/cost accounting course. While not technically offered as a capstone at Baylor, the course can be viewed in the same rich context as a capstone course experience. As noted with management accounting careers, the course requires the integration of all subdisciplines included in an undergraduate business program: finance, economics, marketing, business communications, information systems, and so forth. Thus, as with many programs, we structure the course to move beyond the number crunching that underlies management accounting to an explicit emphasis on what the information tells us about the business.
The ultimate goal is to push students to give an "it depends" response (for class, not exams) when considering the business implications of financial and nonfinancial information. This response reflects a deeper understanding that management accounting is interwoven with and dependent on other functional areas of the business and that accounting information is only meaningful within the business context. So instead of applying rules and regulations to an accounting transaction, the management accountant's role is influenced by the context of operations and business more broadly. The "it depends" response, when followed by reasoning, suggests that students are grasping that interconnection. Successfully preparing students for careers in industry is dependent on their ability to perform this integration of disciplines, and it's incumbent on the management accounting curriculum to deliver this insight to students.
PROMOTE BECOMING A CMA
Encourage students to consider earning their CMA® (Certified Management Accountant) certification. It is beneficial for a variety of reasons. First, the CMA credential is earned by passing a rigorous examination (among other requirements), which students can begin doing while still an undergrad. As soon as they complete their undergraduate finance and advanced managerial/cost accounting courses, they can focus on taking the relevant part of the CMA exam. This timing allows students to complete the CMA exam prior to graduation, which can be a differentiator within the job market. The CMA demonstrates, independent of university GPA, that the student has the knowledge and abilities that are not only integral to starting an accounting job but also serve as the foundation for a long-term management accounting career.
Second, it's well-established that the ability to pass certification exams is enhanced by the recency of relevant coursework completion. Since most accountants currently begin their careers in public accounting before moving to industry, it's no surprise that the average age of CMA candidates is older than that of CPA candidates. The National Association of State Boards of Accountancy (NASBA) reports that the average age of CPA candidates in 2016 was 27.6 years old for first-time test takers, while the age of CMA candidates tends to be about five years older. Given that the majority of the CMA content is integrated into an undergraduate accounting degree program's requirements, taking the exam during the undergraduate program enhances a student's chances for success on the exam. In addition, many resources, such as faculty experts, are more easily available to students than at other career and life stages. At Baylor, we advocate for students to take the exam while in the program so they can take full advantage of the support we can provide. We commit to assisting students one-on-one as they study for the exam when they encounter topic areas in which they need additional guidance.
Finally, the CMA certification clearly adds financial value for the student. IMA's Global Salary Survey shows that those with the CMA earn higher compensation than those individuals without any certification (see Figure 1; note, the low response rate for 20- to 29-year-olds prevents any conclusions about that age group). In addition, the CMA combined with the CPA enables the respondents to earn even higher compensation. So the sooner students earn their CMA certification, the earlier they can begin to benefit from increased salaries and compensation.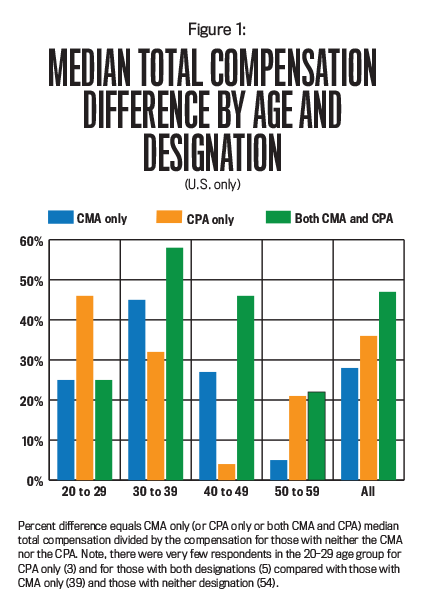 LEAD BY EXAMPLE
As faculty, what better way to validate the importance of a career in management accounting than obtaining the CMA certification? I discovered many years ago that while I could teach any topic in accounting (well, after some preparation), my true love is for management accounting. I entered public accounting immediately after earning my undergraduate degree and, as typical, completed the CPA requirements. Early in my career, the CPA fit my goals. But after I spent a few years working and completed my MBA, my interests shifted to a broader interest in the business instead of purely accounting.
I believed that the CMA was the certification that would open a career path in that direction for me. I obtained my CMA almost 25 years ago. Little did I know at the time that I would soon after decide to become an academic. Yet I've been able to communicate this experience to students. It's invaluable to me in emphasizing to students the enjoyment and value of a management accounting career.
Now IMA also offers the CSCA™ (Certified in Strategy and Competitive Analysis) specialty credential for CMAs. With its focus on strategic planning and analysis skills, the CSCA material complements the content of an advanced management accounting course. This additional credential is now on my to-do list.
ACCESS IMA'S RESOURCES FOR STUDENTS AND ACADEMICS
IMA's Higher Education Endorsement Program has complemented our goal of elevating management accounting as a career choice. Completing the application for the program was a learning experience. The task of identifying which course covered specific content, as well as the related difficulty, required us to fully understand our program. In this way, we could tweak the curriculum to align the desired outcomes with an established plan. As a result, we've built stronger, integrated coverage across classes and a more complete offering. Overall, the endorsement program was an invaluable experience in evaluating our program and at the same time provided us with external confirmation that our program provides content vital to student career success.
The impact of this review and the increased emphasis on management accounting that the endorsement program has on universities is reflected in the CMA exam success rate. In 2015, 73% of CMA exam takers from IMA-endorsed programs in the U.S. passed the exam. For exam takers from nonendorsed programs in the U.S., the pass rate was 62%. These statistics indicate that student success accrues from matching curriculum to the CMA content, recognizing that this content is determined through extensive research on knowledge relevant to a management accounting career.
Being an IMA Endorsed Program offers us many resources beyond the external validation. One of the most important is reinforcing the signal sent to our students about management accounting. By completing the application and seeking the endorsement, we reinforce our commitment to the management accounting career path and communicate to students that it's valued by our faculty.
Each fall, we work with IMA to provide a live webinar to our seniors as part of our advanced managerial course. The webinar presents an array of information ranging from the types of careers available in the cost/managerial field to a detailed discussion of the CMA exam content and process. The presentation is an opportunity for many students to become fully aware of management accounting as a career. Students also then recognize that their coursework has prepared them for the exam content and that they're close to being able to take the exam.
Once the fire for pursuing the CMA has been lit, the ability to nominate students for a CMA Scholarship from IMA fans the flame even further. We have nominated students to receive these scholarships for the past three years. It allows students to pursue the exam at a time when they face many other financial pressures. The students embrace the opportunity and appreciate the fact that a professional organization like IMA is interested in making this investment in them. We hope that this investment will build a future commitment on the students' part to support the development of those entering our profession.
The ability for faculty to attend IMA's Annual Conference in June at a reduced cost is another valuable resource that many other practitioner-oriented organizations don't provide. Attending sessions focused on current practice enables professors to stay up to date with the latest managerial accounting content and practical examples to enhance the classroom experience for the students. Professors are better equipped to teach managerial accounting as a result of maintaining a strong relationship with practice.
PROFESS AND EMBRACE THE ROLE OF A PASSIONATE ADVOCATE
Like many other universities, Baylor is constrained by financial and faculty resources from implementing innovative curriculum that specifically targets management accounting careers. As demonstrated by our endorsement by IMA, we're able to deliver material that's vital for students pursuing this career choice within our traditional program. The real key to a successful program is a passionate advocate for management accounting. Students are inundated with information about public accounting careers. Yet we have a very limited opportunity to light the fire for industry careers. It's important that students who share that passion find confirmation and encouragement from a faculty member. At Baylor, we're very fortunate to have a full-time faculty member who primarily works with our students to prepare them for job interviews and help with placement. The demands on his time are great. Thus, it falls on other faculty to be advocates who promote and educate students about management accounting and the CMA.
In preparing our students for their future careers, we make decisions under the cost-benefit framework that underlies business decision making. Without the luxury of unlimited resources, accounting programs must make informed decisions. At Baylor, we have found success in validating and supporting management accounting career options by applying some basic principles.