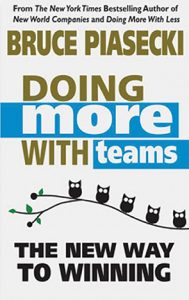 The book begins with an exploration of the ways in which the power of a team is better than that of the individual. Athletes, for example, can't succeed without each other. Piasecki discusses sports clubs such as the Boston Celtics as well as individuals like Lance Armstrong, and he also shares his own life experiences from basketball camps in college to working as an advisor with companies such as Shaw Industries. In all these scenarios, he identifies team characters—the leaders, the planners, the doers, the specialty players, and the substitutes. Piasecki asserts that having people of various ages, with different levels of experience, and from diverse cultural backgrounds on your team will result in a broader range of perspectives. Though, as he acknowledges, competing perspectives can sometimes lead to unique challenges, once "the mix of differences meld…the team becomes one as it triumphs."
When I apply Piasecki's principles to my workplace, the good news is that all the members of my department have the same goal—to help the company grow successfully. But are we a unified team? At the moment, we could do better. One team member even told me recently that he doesn't consider us a team at all. Piasecki's advice, which comes from one of the "Near Future Training Tips" at the end of every chapter, is to "learn how to work with these people" and that "players on a good team…balance each other's negative tendencies." In my professional approach, I now put a special emphasis on that balancing work in order to increase my team's integrity. Piasecki goes on to suggest that the ability to recognize the key capabilities of coworkers is imperative. He states that a real team is created when "team members end their individual associations and create a team identity through sharing with others the experience of that process." Our biggest upcoming team challenge is the implementation of a new ERP system; this project is our opportunity to evaluate and adjust all our work processes. By developing the processes for the new system, my team members will have to cooperate with each other. The new system won't be built by just one person; it will take a team effort, and our team coherence will certainly be improved.
In the last chapter, "Freedom and Fate in Teams," Piasecki compares a team with a fine stereo system: To "sound right," it has to be smooth, be coherent, and have integrity. As the head of my department, it's my responsibility to form a team and keep working to tune into just the right frequency.