And if you aspire to senior leadership positions in the for-profit world, you will need at least a working knowledge of your company's sales process. While there is no substitute for learning directly from your salespeople, you can get a good start from Conquering the Seven Summits of Sales by Susan Ershler and John Waechter.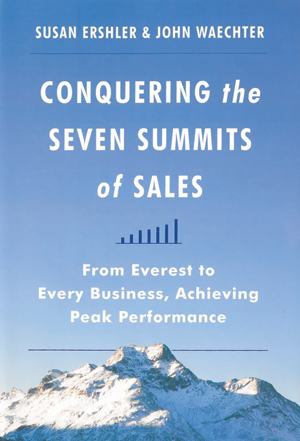 Ershler and Waechter are accomplished sales leaders and experienced mountain climbers who have distilled their experiences into seven sales principles that have equal application in any professional career. They relate their climbing experiences to sales techniques and practices in an engaging manner that could have even lifelong introverts pondering a career switch. And even if the thought of cold-calling gives you the chills, Ershler and Waechter offer some very effective goal-setting and tracking techniques that will benefit any career.
They describe three imperatives on the road to sales success—though these imperatives can apply to other efforts as well. The first imperative is to project—commit your goals to writing and include detailed plans to achieve those goals. Next, it's time to prepare. Salespeople need to learn their company's story, its products, the industry, and their own territory and market. This knowledge is also crucial for finance business partners. The final imperative is to persevere, and while this may sound self-explanatory, both Ershler and Waechter provide life-and-death perspectives that help drive this important point home.
Learning about sales may seem like a daunting task, but a greater understanding of your company's story, its products and services, and the challenges your customers face will make you a better financial professional and a sought-after contributor among your company's leadership team. Accountants and other financial professionals are too often thought of as scorekeepers or "bean counters." Understanding all aspects of your business will help you translate the numbers into relevant, actionable financial intelligence that will add real value to your organization. Finally, the goal-setting, planning, and measuring skills you acquire will have benefits across many areas of both your professional and personal lives.