Leadership is perhaps the most examined, debated, and difficult to define concept in business. The debate began in 1977 when Harvard Business School Professor Abraham Zaleznik argued that business relied too heavily on organizational diagrams, process maps, and time-and-motion studies to manage delivery of results. He pointed out that this equation was missing half the picture—the half driven by the human elements of inspiration, vision, and desires.
Leadership remains so highly examined and debated largely because it drives process, accelerates reaction time, and determines whether results are sustainable. Yet effective leadership skills essentially remain undefined because leadership can't be quantified or mapped and because quality of approach on the front end and outcome on the back end are dependent on the unique individual occupying the role of leader.

To define what makes an effective leader, a triangulation is required for the experience, skills, and traits of the person occupying the role and his or her ability to enroll, empower, and motivate people.
As Zaleznik argued decades ago, leadership and management take two distinct approaches to achieve results. Management defines plans, structures organizations, builds capacity, and administers processes to drive action. Leadership aligns people, processes, and technology to create new frontiers for performance improvement. Leaders anticipate need, create vision, and motivate people to achieve. In short, managers deliver the now, but leaders create the future. Employees graduate to the manager ranks by demonstrating a track record for process delivery and individual drive.
To transition from manager to leader, an individual must ­possess broad business aptitude, critical skills to influence change and inspire action, and the character traits required to build a team and sustain results.
CORE TRAITS OF A LEADER
Peter Drucker was spot on when he said, "Management is doing things right; leadership is doing the right things." I've found that to be true in my 35 years in business. A manager educates, an average leader motivates, and a transformational leader inspires. That said, here are three principal traits that frame a successful leader.
First, leaders thrive on accountability. It fuels their competitive nature and drive. Leaders crave challenges and define the team effort for achieving them. Drive is one of the key differentiators that determine success in the management ranks. Drivers say, "Show me the hill and I'll take it." In the transition from manager to leader, however, the path for "taking the hill" is far less defined and relies more on influencing instead of driving results. A leader defines the path to delivery, creates the culture for the journey, and is personally accountable for owning the outcome.

Here's a good example. In 1971, Herb Kelleher founded Southwest Airlines with three airplanes. When he stepped down as executive chairman in May 2008, Southwest operated a fleet of more than 500 airplanes and flew more than 3,400 flights per day. Under Kelleher's unorthodox business model and unique leadership, Southwest was profitable for 25 consecutive years. Kelleher uniquely thrived on owning responsibility for Southwest from the inside out, not from the top down. He regularly flew with passengers on Southwest planes, helped baggage handlers load luggage, and took tickets at the gate. Kelleher also often boarded a plane to thank everyone for flying Southwest and invite their feedback. As he once said, "Power should be reserved for weightlifting and boats, and leadership really involves responsibility."
Second, vision separates a leader from a manager. Vision isn't challenging the status quo with a radical new direction delivered with hollow bravado. Vision is the unique ability to articulate a future state of possibility that's beyond the horizon of current comprehension.
On May 25, 1961, in what has been described as one of President John F. Kennedy's finest moments, he announced before a special joint session of Congress the dramatic goal of sending a man to the moon. The Soviet Union had beaten America to launching the first satellite and putting the first man into space. Articulating a vision of sending an American safely to the moon "before the decade is out" was incomprehensible.
In addition to articulating a future state, a vision must be a dynamic and personalized call to action that inspires unity and solidifies commitment. On September 12, 1962, President Kennedy spoke at Rice University in Houston, Texas, before 35,000 people in a speech best known as "We Choose to Go to the Moon," where he explained the benefit of space exploration and justified the massive commitment of manpower and spending. He began by saying, "We meet at a college noted for knowledge, in a city noted for progress, in a state noted for strength, and we stand in need of all three." By the end of this speech, our political, educational, and industrial focus was galvanized into a collectively shared vision for the United States.
Third, and most important, leaders are transformational. Exceptional leaders possess the broad business experience to link overarching strategy, tactical execution, and process flow coupled with operational aptitude to design, drive, and deliver transformational change. Because this third trait of great leaders is so crucial to their success, let's talk about it in more detail.
THE INTANGIBLE MAGIC OF TRANSFORMATIONAL LEADERS
At the risk of overselling, transformational leaders create a new reality. They have a unique ability to design a fresh state of process flow and inspire organizational behaviors that institutionalize positive change and eliminate any return to past behaviors and practices. Transformational leaders possess the organizational maturity to network with key stakeholders and rally early adopters to build a foundation of support to launch their vision. They rely on freedom, not authority, to operate, and they enroll critical resources to implement new process flows required to achieve and sustain higher levels of performance.
Transformational leaders drive outcomes by engaging teams at the operational level. As Herb Kelleher so adroitly demonstrated at Southwest, engagement is hands-on, is authentic, and exhibits sensitivity. Successful leaders possess exceptional listening and communication skills that inspire and empower team members to overcome challenges. Leaders champion the mission from the bottom up within the organization and intervene top down to remove obstacles in order for the team to stay on course.
QUALITIES THAT MAKE A LEADER GREAT
Leaders who inspire others to greatness are rarely created overnight. They're usually people of great aptitude and diplomacy who build on a set of skills that allows them to move to the higher tiers of the "leadership pyramid" shown below. This pyramid of building blocks defines the combination of skills, characteristics, and traits needed to progress from being qualified to lead to possessing the ability to redefine processes, inspire people, and instill the character traits required to sustain change.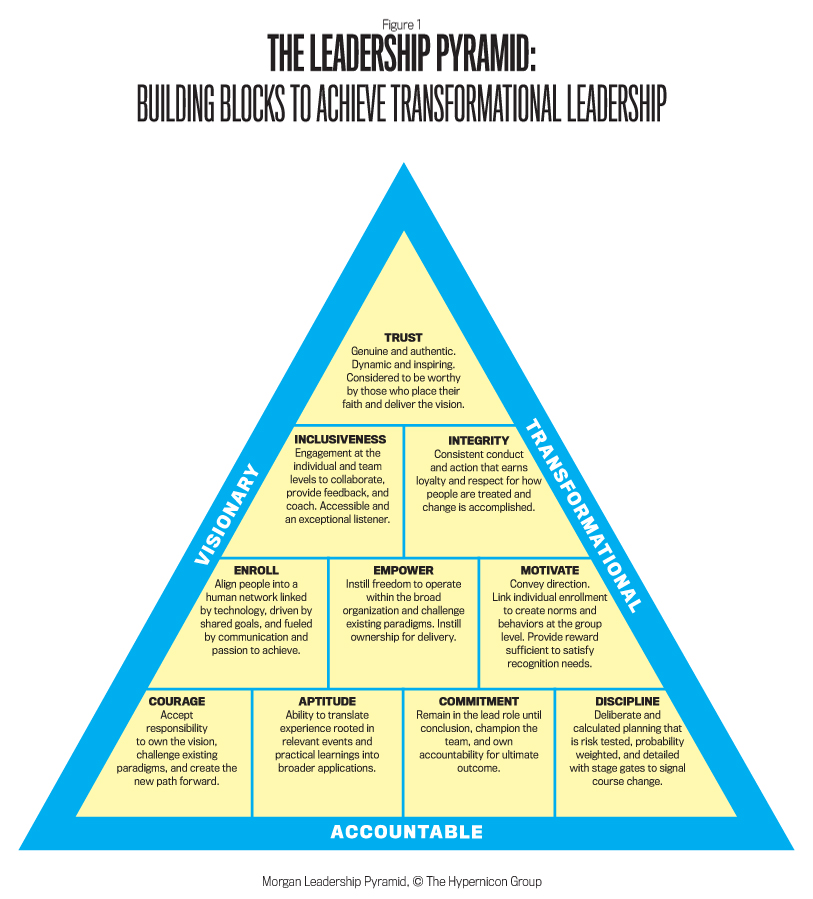 Click to enlarge
The base of the pyramid contains four foundational qualities that a person needs to possess in order to be elevated from manager to leader: courage, aptitude, commitment, and discipline. Courage anchors one corner of the base. A leader must accept the responsibility to challenge the status quo, champion the vision, and ultimately be held accountable for delivering the targeted outcome. Courageous leaders make groundbreaking decisions, rationally defending their chosen courses of action while taking ownership for managing the risk and delivering the reward.
In 1982, seven people within a small geographic area of northern Illinois died after taking Extra Strength Tylenol capsules that unknowingly had been laced with potassium cyanide. This was the first case of product tampering to reach national levels of attention. The reaction of Johnson & Johnson would determine the fate of the best-selling nonprescription pain reliever.
James Burke, CEO of J&J, took unprecedented and groundbreaking action. He went on television to announce that J&J would stop selling Tylenol capsules and remove them from shelves across the United States—even though no evidence suggested that the tampering had occurred outside northern Illinois. Burke's televised appearances personalized the response and left no doubt as to who was accepting responsibility and making decisions. Burke said J&J put consumer confidence before profits and wouldn't allow such an act to destroy the trust the company had earned with the public.
Many people predicted that the unprecedented move of pulling Tylenol from the shelves, which cost the company hundreds of millions of dollars, would be the downfall of the brand and J&J. Instead, by being forthright and decisive and by demonstrating ownership, Burke saved a brand that still today delivers billions of dollars in profits to J&J.
Discipline anchors the other corner of the leadership pyramid, as courage to lead must be accompanied by the essential skill to plan effectively for a positive outcome. Planning must be detailed, multidimensional, and probability weighted. It must serve as a dynamic roadmap of milestones and deliverables that define the path from current to future state. Framing delivery in the form of a detailed plan defines roles and sets expectations, provides transparency, enables agile course correction, and motivates employees to take action.
Aptitude and commitment are sandwiched between the corners to complete the pyramid's base of fundamental leadership qualities. To transition from manager to leader, it's essential to elevate experience-based knowledge to a higher plane of application, translate learning into new paradigms, and demonstrate unwavering consistency—all while championing new ways of behaving in order to achieve the operating principles defined in the vision.
What else defines leadership readiness? Most essential is the ability to translate the key technical and analytical skills inherent in the base layer into value-driven actions. Those determine a person's ability to motivate people and move an organization forward.
How does a successful leader choose who occupies a place in the organization or on a team charged with transforming performance? Theodore Roosevelt is universally regarded as the first transformational leader to occupy the White House. His principles of leadership philosophy for achieving success include:
(1) Hire people more talented than yourself, (2) make the welfare of the team your foremost responsibility, (3) search ceaselessly for new talent, and (4) recognize strong performers while also excusing those who don't live up to the standards set for the team, whether by moving them to a support role or removing them from the organization if they are an obstacle to delivery.
LEADERS INSPIRE OTHERS
The next tier of the pyramid contains three critical skills that distinguish effective leaders: the ability to enroll, empower, and motivate. These skills are fundamental to align on concept, unite on contributing, and inspire an organization to move in the same direction. As mentioned earlier, management-based organizations drive change through architected design. Leadership-based organizations, on the other hand, drive change through achieving macro-level alignment, motivation, and empowerment.
Leadership in the 21st Century is communications-based and alignment-driven. Modern organizations are built on interdependence where no individual has absolute authority and employees are linked by technology rather than hierarchy. Getting people to move in the same direction isn't a structural issue—it's an alignment problem.
Alignment requires aptitude and experience for the leader to take a high-level view across business processes, detect friction points, then influence the organization to adopt new patterns of behavior and execute redesigned process flow to achieve the vision. Great leaders are the ones who can gather their workforce into a seamless, collaborative, and empowered continuum that works across functional borders to resolve issues impairing process flow.
The best managers continuously engage their team with dialogue that motivates ownership and inspires them to act. The human mind abhors a vacuum, and effective leaders fill it with purpose, trust, and empowerment to own the journey and achieve a higher plateau of performance. As early adopters grow and communicate with one another, a tipping point of critical mass eventually is reached that creates momentum sufficient to overcome resistance.
As is the case with any new initiative, however, employees are going to ask what's in it for them. A transformational leader motivates and inspires individuals to believe in three things: (1) Their commitment is tied to a meaningful cause, (2) success is probable, and (3) their collective efforts will be rewarded fairly. A leader must align focus and inspire behavior to achieve incremental milestones defined in a detailed implementation plan that the team can comprehend, adopt, and deliver on.
Communication skills and a selfless presence are critical drivers. These traits help a leader demonstrate the behavioral consistency needed to get people behind an important initiative. Behavioral consistency is more than simply repeating the same words and actions. It's demonstrated by the leader's authentic attitude and unwavering belief in the vision, which reinforce the team's feelings of confidence and empowerment to achieve the milestones of the overarching plan.
By focusing attention on a vision, the leader empowers an organization through its values, commitment, and aspirations. Great leaders inspire their followers to reach high levels of achievement by showing them how their work contributes to worthwhile ends.
CHARACTER AND TRUST SUSTAIN PERFORMANCE
Great leaders will always be remembered more for how they accomplished their end result, not what they accomplished. With this in mind, the top tier of the leadership pyramid is composed of three character traits essential to sustaining the new operating vision: inclusiveness, integrity, and trust.
Perhaps the greatest leadership example in the world today is that of German Chancellor Angela Merkel, who has balanced the economic fate of the euro, stabilized the political state of the Eurozone, and quietly accepted the role of unofficial leader of all of Europe in confronting the resurgent and expansionist Russia. She earned her amazing approval rating, which has reached as high as 70%, by transforming her global influence into a leadership Rock of Gibraltar that keeps the political interests of the East and West in balance, holds the world accountable for humanitarian treatment of refugees pouring out of the Middle East, and proposes trade policies to bring stability for Asia's fragile economy.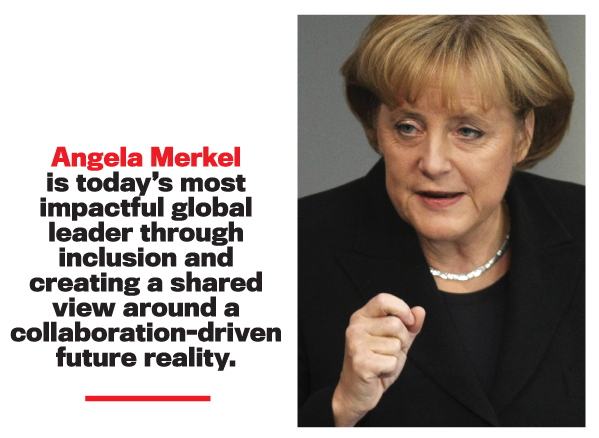 Merkel isn't flamboyant in her style or delivery, nor is she self-serving to build her presence in the media. She doesn't look down on her opponents, and she shares the stage with her allies. She is laser-focused on balancing the multitude of complex global factors impacting humanity issues, the debt of struggling euro-currency based countries, and stabilizing governments for countries in the Eurozone.
Merkel's impact comes from aligning leaders internal to the situation, as well as G20 leaders external to the situation, around the cause-and-effect realities for how a strong euro and Eurozone are essential to global economic and political stability. Angela Merkel is today's most impactful global leader through inclusion and creating a shared view around a collaboration-driven future reality. Without a doubt, she embodies the leadership pyramid's framework of accountability, vision, and transformation.
Inclusive leaders possess superior listening skills and demonstrate impactful coaching techniques. They gather input, talk to their people, mentor them, and recognize their accomplishments. Employees measure their intrinsic satisfaction not only against the money they earn from their efforts, but against what they gain in self-esteem and from their satisfaction with the work environment and the work culture.
Employees will remain engaged and energized once they're satisfied that extrinsic reality aligns with intrinsic expectations. The conduct and consistency of the leader to align individual roles and process flow relative to that equation determine if employees will sustain their good efforts and remain in the organization.
Ultimately, however, effective leadership comes down to character and trust, the capstone of the pyramid. While realized rewards may be in relative balance with their intrinsic expectations, employees have to believe at both an individual and group level that the leader they've trusted and followed is worthy of their continued commitment to the vision and organization.
Trust is the ultimate ingredient that transforms individuals into a collective, focused, and committed team. That said, trust is fragile: It requires precious time to earn and takes very little time to lose. The greatest compliment to an organization is when a leader becomes a constant funnel of talent who prepares and elevates team members into next-generation leadership roles. An organization that develops leaders who possess the fundamental qualities, critical skills, and character traits contained in the pyramid will remain competitive, execute with excellence, reward generously, and attract and retain committed people.
SHARPEN YOUR OWN LEADERSHIP SKILLS
What are your leadership aspirations? How does your portfolio of leadership qualities and business skills align with the framework and building blocks of the pyramid? Are you hungry to contribute on a strategic and transformational level? What are your core analytic and leadership strengths, and what areas require further development?
Even if you don't aspire to the C-suite, the leadership pyramid is a useful tool for career planning and tracking your personal development. Core strengths identified through skill assessments and preference testing tools can be mapped into the pyramid's building blocks. Taking risks to accept project management assignments will develop networking and transformational skills. Aptitude, vision, and potential for leading change-driven projects are best assessed through conversations with key stakeholders in the organization and can be mapped into the pyramid's building blocks to reflect your level of strength and degree of leadership readiness.
Careers in management accounting require a strong technical and analytical skill base plus broad understanding of business processes coupled with an effective set of soft skills. To earn a reputation as an impactful leader, you need to accept challenging assignments, demonstrate ownership for delivery, and achieve targeted outcomes. Meanwhile, expanding your network of key stakeholders throughout the organization will place you on the radar for an increasing number of rewarding career opportunities. To help you assess your preference and state of readiness for leadership and change management roles, I've included a "Measuring Your Readiness" questionnaire (see below). This tool also will provide you insight into the leadership skills areas you might want to concentrate on and develop.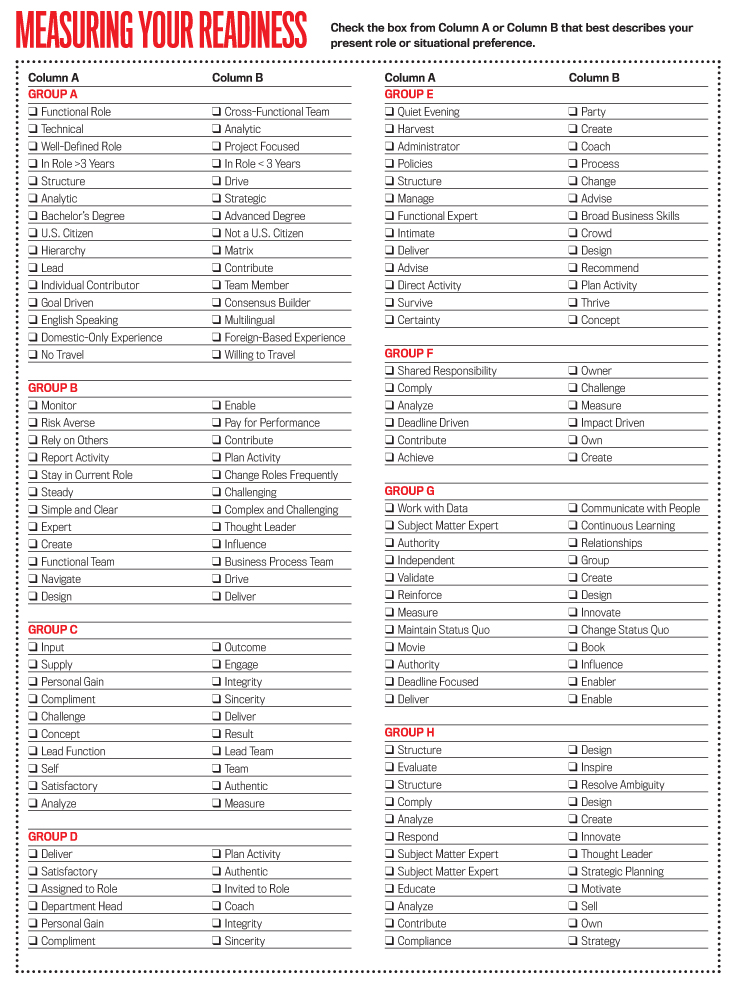 Click to enlarge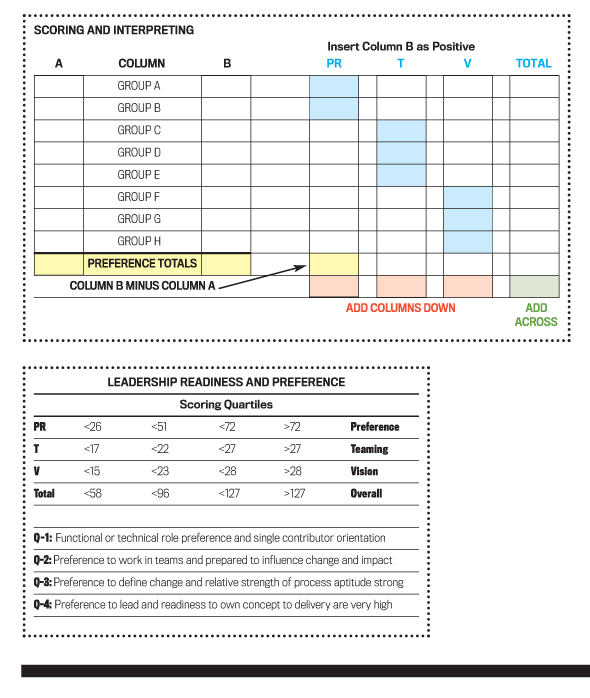 Click to enlarge
As you can see from this discussion, gaining experience and developing the skill level to lead and sustain transformation requires continuous learning coupled with delivery in challenging roles. Become the author of your outcome. Gain the skills, experience, and perspective to transcend today and become a transformational leader and author of tomorrow.