To take full advantage of these opportunities requires changing how we view learning. While nothing can replace a traditional live classroom experience, management accountants must take advantage of the growing number of useful online tools. Continuous learning is now much simpler and more cost effective because of online tools and platforms. It's a way to refine existing skills and develop new competencies. It can even open doors to some career opportunities you never knew existed.
The market expects professionals to keep pace with relevant changes in the field, so it makes sense for accounting professionals to take advantage of these resources. Whether you want to learn an entirely new skill or brush up on revenue recognition, the platforms are available. These tools often have mobile-friendly displays and dashboards, which makes it easier than ever to learn on the go. Your ability to learn is limited only by the time you invest in it.
In my own career, I have used online tools to aid my continuous learning and enhance my professional skills. For example, I use Adobe Connect to share presentations and Skype to collaborate with others, communicating in real time using video and audio. While neither tool is particularly new, I learned how to use these tools for business purposes—a new skill for me that boosted my productivity. For my in-depth learning about accounting, integrated reporting, and technical financial matters, I took advantage of every resource I could! I gained an eye-opening view of just how much information is available using webinars offered by IMA® (Institute of Management Accountants) and other organizations, news briefs distributed by e-mail, and academic resources I could access through an online university.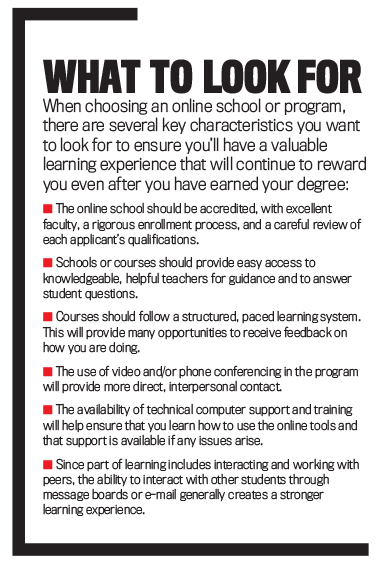 A GROWING SKILL SET
After I earned a doctorate in strategy and innovation, people often asked why I chose that route rather than accounting. I saw it as a solution to help me address the changing needs of the profession. While management accountants need to have the critical technical skills, such as handling debits and credits or being able to explain a net present value equation, much more is needed for success these days. The overall scope of responsibilities is growing, and management accountants must be able to interpret, explain, and use accounting and other information to make better business decisions. And for my career goals, the doctorate helped take me in that direction.
The expansion of management accountants' responsibilities drives things like the spread of integrated financial reporting and the growing focus on sustainability and governance reporting. Organizations and external end users are demanding more comprehensive information about both financial and operational performance, so management accountants deserve a seat at the table. To function effectively in a broader role, we must be able to choose the right strategies and innovate.
For example, look at the expanded use of integrated financial reporting, a stakeholder-oriented reporting framework created by the International Integrated Reporting Council (IIRC). A variety of organizations have adopted it, including Clorox, Southwest, and Pfizer. The spread of integrated financial reporting means that management accountants must become more flexible and innovative in applying their current skills to new business problems. Yet many colleges and universities continue down the traditional path of preparing accounting majors for audit and attestation work while the market clearly expects more of the accounting profession in the future. This provides an opportunity for accounting professionals to expand their professional roles and responsibilities by seeking out competencies that are in demand.
One key lesson I learned from earning my doctorate online is the importance of leveraging technology and online resources to become more productive. Some of the best online resources are from organizations that are already familiar to accounting professionals. I signed up to receive routinely published information about technical and financial reporting standards from organizations such as the Financial Accounting Standards Board (FASB), the IIRC, and the International Accounting Standards Board (IASB), which helped me stay on top of hot trends and topics affecting the profession. I also added their websites to my browser's favorites list, along with those of publications like Strategic Finance, Accounting Today, and AccountingWEB. As my studies took me deeper into integrated financial reporting, I was pleasantly surprised that IMA has been so active in discussing it—giving me access to white papers and thought leadership material I could use to support my research and writing.
As you evaluate your own professional learning goals, it's important to remember the ultimate objective: developing and maintaining your skills so you are more marketable. Consider the increased use of nontraditional reporting concepts like integrated financial reporting, but also remember what's happening on a day-to-day basis within the profession.
Accounting professionals are increasingly asked to participate on cross-functional teams that can span technology, budgeting, and capital planning, working hand in hand with professionals in other areas to streamline processes and reporting. From this perspective, it's easy to see a variety of opportunities for accounting professionals to play a more active role within the organizations and the profession at large. Practitioners working in public practice, accountants working in industry, and academics are part of a growing trend toward greater quantification and measurement within the business community. A broad range of stakeholders now hold organizations accountable. While this creates many challenges, it also creates more opportunities for those ready to embrace them.
HOW MANY ROLES WILL YOU HAVE?
Many forecasts estimate that people will have between five and seven professional roles in their career instead of working for one organization for several decades and advancing up the corporate ladder. What effects will this have on how people approach their careers?
First, the more roles an individual takes on, the more volatile and stressful that career can be. Changing jobs or even industries is always stressful, but it also provides opportunities. If you don't particularly like what you're doing, aren't a good fit for the industry, or simply want to experiment and try something different, the new workplace model of multiple roles makes career change acceptable and even encouraged.
Second, the role of accounting professionals is changing rapidly, perhaps more than we realize. The very technology that enables us to be more productive and connected also advances the real possibility that much of our work will be automated. That disruption of our profession provides both challenges and opportunities, and it's up to us to be bold, innovative, and open to new ways of thinking. The business environment has changed, and accounting professionals must adapt to the new reality: To become a strategic partner and a trusted advisor, we must have the skills that role demands.
So what does this mean for someone in management accounting? A quick Internet search of "accounting careers" provides more than 200 million results that run the gamut from accounting programs to accounting news. Digging deeper, the search results include job titles for everything from staff accountant to forensic information technology specialist—confirming the expanding roles of accounting professionals in the workplace.
These varied opportunities force management accountants to be personally responsible for continuous improvement. They also must be professionally responsible, seeking out ways to apply their existing skills and learn new ones. So many career options and possibilities also can produce quite a bit of ambiguity and uncertainty, and learning to deal with that can be challenging for members of our profession. But on the positive side, our profession's career options are more open and wide-ranging than ever before.
This means that many old limitations and restrictions for management accountants no longer exist. Just as industry lines continue to blur, with companies like Amazon expanding into a variety of businesses, the traditional borders of various accounting career paths are blurring. Considering the sheer amount of educational material now available for you to access on mobile devices, the opportunities to advance using continuous learning are tremendous.
Accountants can learn about everything from analytics, to sustainability, to advances in cloud computing and reporting software—and that's just a small sample of what's available. Management accountants can even learn how to get a more strategic and decisive role in their companies. That's important because, while industry conferences and publications advocate a more strategic role for accounting professionals, achieving that role often requires specific new skills and experience.
MY ONLINE DOCTORATE
In 2013, I was looking for a way to make myself a more marketable, well-rounded financial professional. I wanted an experience that would add measurable benefits but wouldn't pigeonhole me as someone who could only do a specific kind of number crunching. After researching and discussing it with friends and family, I decided to pursue a nontraditional doctoral degree.
One thing I quickly realized shortly after beginning the program was that in order to balance my coursework, the dissertation writing obligations, a full-time job, and the rest of my responsibilities, I would have to become much better at time management. Two regular actions were especially helpful: setting a calendar and prioritizing my work. At the beginning of every semester I would schedule my assignments, research, and other work on my calendar. That helped me remain focused during the semester as other things inevitably would pop up. Building on this organized plan, I was better able to prioritize my work and obligations as they came up. It meant working a lot of nights and weekends to keep up with everything, but the end result was well worth the effort and dedication.
Since I was already working full-time and trying to cultivate relationships within the profession, it wasn't realistic for me to drop all that and enroll in a traditional Ph.D. program that would last five to seven years and be a full-time occupation all by itself. After doing some comparison shopping for different institutions and programs, I chose a doctorate in business administration (DBA) program, specializing in strategy and innovation. I used a variety of online resources to help me make the best choice (see "Which Online Program Should You Choose?"). My final choice met all my criteria: The for-profit institution that offered it was accredited, the online faculty profiles looked impressive, and the enrollment process seemed properly rigorous—I had to submit transcripts and an application letter, and there was a waiting period while the school considered my application.
The best advice I'd offer if you're considering an online degree is to examine the program in the light of your own career path. In my case, I felt the DBA was a great fit for me because it would expose me to rigorous academic research and writing while also teaching me how to apply research ideas to the workplace. You may select a different option depending on your own career path and where you would like to be in the future.
For example, the institution that offered my DBA also has an online Ph.D. that takes five to seven years to complete. Although it had much of the same content as my DBA program, the online Ph.D. focused only on academic applications for its material. While I certainly could have completed the Ph.D. program, and its content looked as rigorous as that of the DBA program, the DBA program was a better fit for my goals.
Despite my preparations, I was a little apprehensive as I began this next stage in my education. I had taken some online courses in college and was very familiar with using technology to get things done, but I had never tried to complete an entire degree online. Fortunately, the program included face-to-face interaction with members of the program, faculty, and administrative support staff during a four-day period. That helped me understand the program, which also was cohort based—you begin and move through the program with the same group of individuals. That helped the learners stay on track, and it was reinforced with WebEx video conferencing, conference calls, and other online contact we had during the program (see "What to Look For" on p. 50).
Aside from the DBA program's online technology, what really stood out were the wide-ranging learning material and the sheer volume of work! Between weekly assignments, larger assignments spaced throughout the quarter, and the dissertation itself, I found myself thinking and researching during every free moment I had. Yet what was even more interesting was the broad scope of topics we studied, and I was learning about some for the first time. Disruptive innovation, blue ocean strategy, continuous innovation, the impact of technology on managerial decision making, methodologies to assess new product rollouts, and whether or not to enter new markets are just some of the concepts I explored during my doctoral studies. We also had to apply those concepts in analyzing case studies or assessing a publicly traded organization.
The program was both exhausting and exhilarating, but, most important, it was an eye-opening process. At a certain point, I stopped asking, "What did I get myself into?" and started saying, "Hey, I can do this, and it actually makes sense!" Further, simply by having to balance a full-time doctoral program with a full-time career, I improved my time management skills, my ability to objectively assess requirements, and my planning skills. It also increased my ability to analyze and consolidate large amounts of information, and doing the coursework improved my reading and comprehension ability. I also picked up additional skills by completing the degree through an online institution, such as learning how to work remotely and interact with my fellow learners, professors, and dissertation advisors without always meeting in person. These skills are valuable in the marketplace.
Again I found some specific online tools useful, although I tried to keep the entire process as simple as possible. Synchronizing my calendars with my laptop, tablet, and phone helped me track which assignments were due and when. Both Google and Yahoo provide some excellent calendar apps and features for free. But to stay dedicated throughout the whole process, it was even more important to establish relationships with other students. To support and help each other with any issues that came up, we set up a private Facebook page and used weekly calls and text messages.
For the long term, it was also critical to have practice in applying different ideas and concepts to business problems. As accounting professionals seek more active roles in business decision making, we must make sure that when we are given opportunities to impact the big picture, we can see and understand it.
For example, one concept that stood out my in studies was integrated financial reporting. In addition to forming the cornerstone of my dissertation, integrated reporting truly appears to offer a blueprint for accounting professionals seeking to develop themselves and achieve a more active role in how decisions are evaluated and executed in their organizations. Learning and knowing are good, but they aren't enough by themselves. In order to maximize the potential of continuous learning—and, in my case, my doctoral studies—I had to apply this knowledge.
APPLYING YOUR KNOWLEDGE
Online education and learning isn't a new concept to many management accountants, especially those who have earned certifications such as the CMA® (Certified Management Accountant). Many of the CPE credits needed throughout the annual renewal period can be earned through webinars or online learning. While obtaining a doctoral degree isn't in everyone's career path, what should constitute an integral part of any management accountant's career planning is the idea that our education and learning should never stop. The accounting and financial services field, along with the rest of the business landscape, is in the midst of a dramatic overhaul and shifting priorities on multiple fronts. To remain relevant in a professional field that's increasingly competitive and filling up with alternatives to management accountants, it has never been more important to learn new skills and apply them.
I've done that in several ways. I constantly strive to become more active and involved in the profession, which forms the basis of applying what I've learned to my daily activities. In addition to being an assistant professor, I serve as an adjunct professor at two institutions, write articles for academic and practitioner publications, and volunteer to serve on as many professional committees and interest groups as I can. I know that every experience makes me a more complete, well-rounded, and thoughtful professional, preparing me for the challenges ahead. The great thing about a dynamic field like accounting is that there's never a shortage of opportunities for getting involved. Applying what you have learned makes mastering the material much more satisfying.
How management accountants apply what they learn depends on their organization, industry, and the individual. But there are some common themes. The most important is that management accountants must be proactive in developing their skill sets (see, "CareerDriver®: Developing Your Skill Sets") and in promoting these new skills in the workplace. The need to keep pace with market changes is clear. Employers are constantly looking for people with the best combination of competencies, so speak up and make sure you are being noticed for all the right reasons.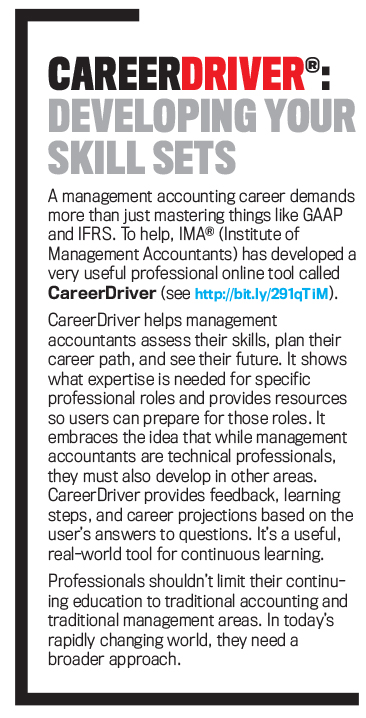 Also, reach out to colleagues and managers with ideas to improve current processes. Start with attainable goals, respect the organizational hierarchy, and be sure to present possible ideas as win-win scenarios. To help smooth over any ruffled feathers, emphasize the benefits of improvement instead of highlighting existing flaws. Finally, remember that online education, continuing your education, and learning new skills are all about improving as a professional and expanding the services you bring to the marketplace. It isn't only about continuous learning. It's also about continuous improvement.
---
WHICH ONLINE PROGRAM SHOULD YOU CHOOSE?
Choosing the best online degree program is an individual matter, but here are three online resources that make the process easier:
* The U.S. News & World Report list of the best online programs is a top resource for comparing college and education programs nationwide (see http://bit.ly/1RJu6CV).
* AACSB International (formerly the American Assembly of Collegiate Schools of Business) is a top-tier accreditation body for business schools. It ranks how well these schools' programs educate and prepare their students for the job market (see http://bit.ly/29Km8M9).
* The Accreditation Council for Business Schools and Programs (ACBSP) also is a highly respected accrediting body for business schools and programs (see http://bit.ly/29Ssjw2).
After you finish your initial search, compare the specific program you're interested in with similar programs at other institutions.