Leadership is inspiring or influencing others to want to do what you ask of them. Everyone influences someone. Sociologists tell us that even the most introverted individuals will influence 10,000 people during their lifetime. Think about that for a minute. The question isn't whether we will influence others but how will we influence others? What action do we want to inspire?
"Example is not the main thing in influencing others. It is the only thing."
Albert Schweitzer
LEAD BY EXAMPLE
We have to practice what we preach. We have to lead by example and be aware of what's being said and done around us. In the management accounting world, we're accustomed to dealing with increasingly shorter closing cycles and multiple competing priorities during the close process. During a particularly short month-end close, I received a phone call from a reliable source who told me it was rumored that several incomplete units had been claimed as "completed production" in order to manipulate our earnings for that month. The alleged impropriety had taken place on the orders of an Operations Leader, a member of the Leadership Team for our facility (one of my peers). Even worse, when questioned about it, the Operations Leader responded, "I'm touching every unit before I report it as complete based on orders from my boss," who was the General Manager for our plant and my boss as well. I pulled two other members of our Leadership Team aside and asked them if they had heard similar rumors. They had. One had approached the Operations Leader in question and had been told he was just "doing his job."
I called in two members of my team and shared with them, in confidence, what had just transpired. I tasked them with quickly combing through our production data to see if they saw any potentially suspicious activity. They did.
At that point, I had to have a difficult conversation with my boss. After locating him and giving him an overview, he immediately said he had no knowledge of an impropriety, did not condone any impropriety, and called in our Human Resources Leader to launch an investigation. After a thorough investigation, there was no impropriety. The incomplete units in question did get reported out of sequence but ultimately got reported as incomplete and weren't claimed for absorption income. The Operations Leader didn't do anything inappropriate related to production reporting, but he did use questionable judgment when he gave a short, flippant answer after being questioned by others regarding a very serious issue. This resulted in us perceiving an impropriety and questioning the integrity of every member of our Leadership Team. If he had taken the time to listen to the concerns being expressed and addressed them respectfully, the entire situation could have been avoided.
It's been said that the most important ingredient of leadership is integrity. Integrity is who and what we are when no one else is around. Do we truly walk the talk?
"The supreme quality for leadership is unquestionably integrity. Without it, no real success is possible, no matter whether it is on a section gang, a football field, in an army, or in an office."
Dwight D. Eisenhower
CREATE YOUR OWN STYLE
Having spent 25 years in various financial leadership roles with increasing responsibility, I have developed a set of guiding principles. I call it "STYLE." STYLE has nothing to do with fashion and everything to do with leading by example. STYLE is an acronym for the five components I know to be essential for success—as a businessperson and as an individual.
STRATEGY Know where you're going, and have a plan to get there. Determine your core values (what's important to you and how you want to live). Then determine where you want to go and what things need to happen to get you there. You can do a gap assessment to gauge where you are and where you want to be. Next, put a plan in place to close the gap.
TEAMWORK Build a support network and use it. Utilize the resources available to you. Find the common ground between you and others in your business, your family, or your network.
YOU It begins and ends with you—your actions and attitude. Set the tone. In the month-end example, I had to set the tone—to lead by example. I chose to lead with integrity.
LEADERSHIP Inspire or influence others to want to do what you ask. Leadership is a "people" business, and it's incumbent on us to operate with integrity while treating others with dignity and respect.
ETHICS & ENERGY You should expect others to treat you ethically, and they should expect the same from you. You get back what you give out. Treat others as you want to be treated—with respect and dignity.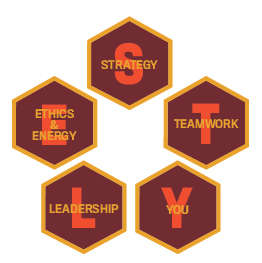 Ethical conduct isn't situational. Some of the best manufacturing leaders I've worked with and for through the years had one simple rule related to safety: Always send people home the same way they came to work. Several years ago, I worked with a plant manager who had some very difficult deadlines to meet for a new product introduction. He was short-staffed in engineering but was making every effort to meet the schedule as published. It was brought to his attention that some of the new equipment necessary for the new product introduction had been installed without following all the safety guidelines. When he asked the lead engineer about it, the engineer simply stated, "We have a schedule to meet." The plant manager was faced with what some people might consider a difficult decision. Without hesitating, he fired the engineer on the spot. In his words: "It's simple. We don't take chances with the safety of our workers." This is ethics plain and simple.
One of my favorite quotes is attributed to Henry Ford: "Whether you believe you can or whether you believe you can't, you're right." As leaders, it's incumbent on us to believe in ourselves and believe in those who choose to follow us. If we don't, then who will?
LEADERSHIP PHILOSOPHY
When I'm coaching clients about leadership, one of the first things I have them do is develop a Leadership Philosophy. This presents an opportunity to articulate your point of view. It brings assumptions to the surface, including deeply held beliefs about people, relationships, and your purpose. It isn't a strategy—it's your personal statement of your leadership intentions. It conveys how you intend to accomplish your mission through and with people.
Each of us is the product of our experiences and our environment. Therefore, each of us is unique. Once we do the work to figure out what makes us tick and what we want to accomplish, then we can articulate that for others in our Leadership Philosophy, composed of our Statement of Personal (Core) Values, Leadership Philosophy (Why are you a leader?), and Expectations of Your Team. My Leadership Philosophy has evolved through the years (see "How I Lead My Team").
Our teams will appreciate the clarification of our expectations and also will have a better idea of what to expect from us. As management accountants, it's particularly important to set the tone. I've changed and refined my Leadership Philosophy through the years and have always shared it with the teams I've led. To develop your own Leadership Philosophy, download the template at www.makingmoneywithstyle.com.
How I Lead My Team
My Values
Act Ethically and with Integrity
Be Humble
Be Self-aware
Maintain a Positive Attitude
Enable Positive Change
Trust
Respect
Be Courageous
Establish and Nurture Enduring Relationships
My Leadership Philosophy
I believe that deep down everyone wants to be a part of something bigger than him- or herself and leave a legacy that will be respected and admired. I believe that it is incumbent on us to look for the best in others while striving to be the best we can be.
As a leader, I will maintain a "can do" attitude and be an agent for positive change for those who choose to follow me. I will strive to act every day, in every way, as if the world is my stage. I will share my influence with others for the purpose of investing in them—paying it forward.
I believe, as a leader, we have to own "Our Actions" and "Our Attitude." These are two things totally within our control.
My Expectations of My Team
Operate Ethically and with Integrity
Treat Others with Respect
Deliver Accurate, Relevant Information on a Timely Basis in Compliance with GAAP
Lead by Example
Provide Financial Leadership (Processes and People)
Drive and Measure Productivity
Maintain Financial Visibility and Accountability of Key Priorities
Drive Focus on Profitability and Cash Management
Challenge Me (at the Right Time and in the Right Place)
Own Your Actions and Attitude
IMA LEADERSHIP ACADEMY
The IMA® Leadership Academy provides leadership opportunities for all members. From leadership assessment to leadership courses offered in person as well as through WebEx to participation opportunities in mentoring, be it reverse or traditional, the IMA Leadership Academy can help you meet your leadership goals and improve your leadership skills. For more information, please visit the Leadership Academy website at www.imanet.org/programs_events/ima-leadership-academy.