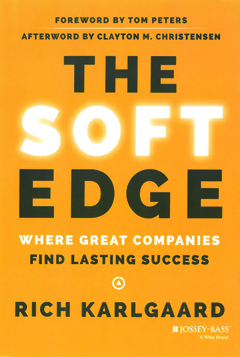 The book is centered around the "Triangle of Long-Term Company Success," which is composed of three elements: the strategic base, the hard edge, and the soft edge. The strategic base involves knowing your market, customers, competitors, substitutes, and disrupters. The hard edge means knowing your operations, speed, cost, supply chain, logistics, and capital efficiency. The book, however, is dedicated to understanding the five components of the soft edge:
Trust is considered to be the foundation of greatness. Companies that understand the value of trust operate under the principles of honesty and fairness, creating safe environments for innovation and sales growth.
Smarts highlights tenacity and grit in defining long-term success. Specifically, smart companies have leaders who think laterally and take inspiration from other innovative thinkers. Smart companies work with other smart companies, build relationships, and find mentors.
Teamwork is about building teams that react faster to change, respond quickly under pressure, and share a common bond. Great teams are built by bringing together diverse thinking styles.
Taste is that feeling of enchantment from a product, person, or service that resonates with our inner self. Companies that are the forerunners of taste have a deep understanding of their product or service and the customer experience.
Story is a fundamental piece that ties together the soft edge. Storytelling is an innate component of the human experience that provides a powerful tool for communication. Stories resonate with team members, suppliers, and customers, and people love to share them.
Overall, The Soft Edge is a wonderful read that sheds light on a business area often ignored and undervalued. Each chapter is filled with great examples taken from the author's personal experience and from conversations with eminent business leaders. The book is perfect for anyone looking to build a great, unique business.