HONORING STUDENT ACHIEVEMENT
IAHS was launched in March to recognize and honor academic achievement in the study of accounting. Students can join by visiting its website at www.IAHS.org. IAHS membership is available to all students—IMA members and nonmembers—who meet the eligibility criteria. Students can apply if they:


Are a declared accounting, finance, or information technology (IT) major;
Have taken a minimum of three accounting courses;


Are enrolled in their junior year or later in an undergraduate program or a graduate or Ph.D. program;


Have an overall and accounting grade point average (GPA) of 3.0;


Provide a transcript as proof of eligibility; and


Pay a one-time fee of $50 for a lifetime membership.
A professor can nominate students, or students can provide proof of meeting eligibility requirements to be accepted into IAHS. As part of IAHS benefits, members receive a certificate of recognition, a graduation cord, a digital badge to post on their social and professional networks, access to a members-only LinkedIn group, and a digital newsletter. IAHS is supported by a corporate advisory board composed of influential leaders from the business and education communities.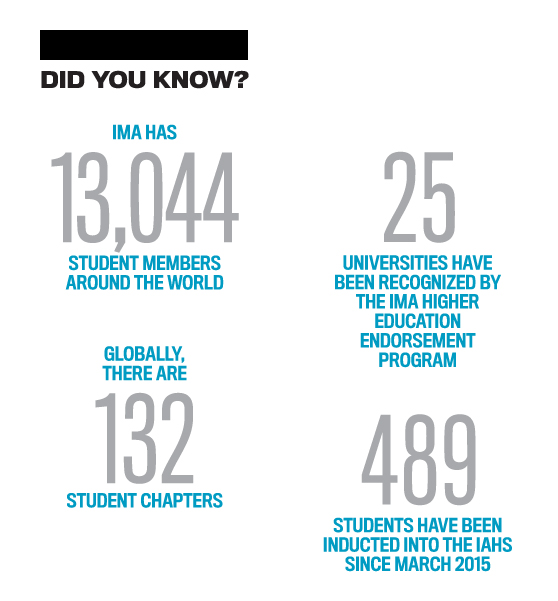 IAHS recognizes individual academic achievement and is available to students from all accredited colleges and universities, including those accredited by the Association to Advance Collegiate Schools of Business (AACSB), the Accreditation Council for Business Schools and Programs (ACBSP), the International Assembly for Collegiate Business Education (IACBE), and others around the world. IAHS doesn't operate as a chapter network or require additional mandatory activities, but IMA does offer student chapters for those interested in leadership opportunities.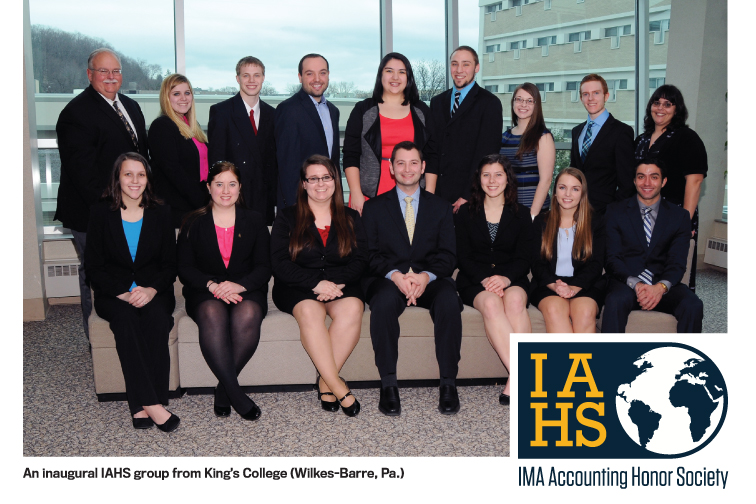 The inaugural class (March-June 2015) totaled nearly 500 students from more than 150 universities. To learn more about IAHS, please e-mail me at jryan@imanet.org.
AN EXCEPTIONAL OPPORTUNITY
IMA selected five outstanding students for the IMA Leadership Experience through an application process involving the IMA Higher Education Endorsement Program's member schools. The winning students had a unique opportunity to experience the inner workings of the IMA Global Board meeting in February 2015.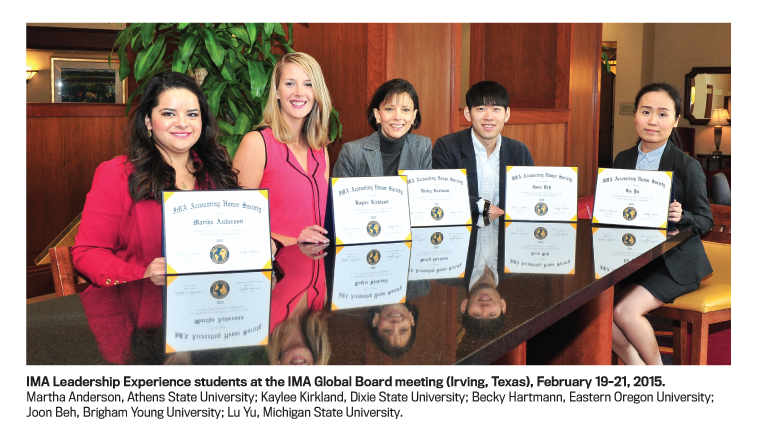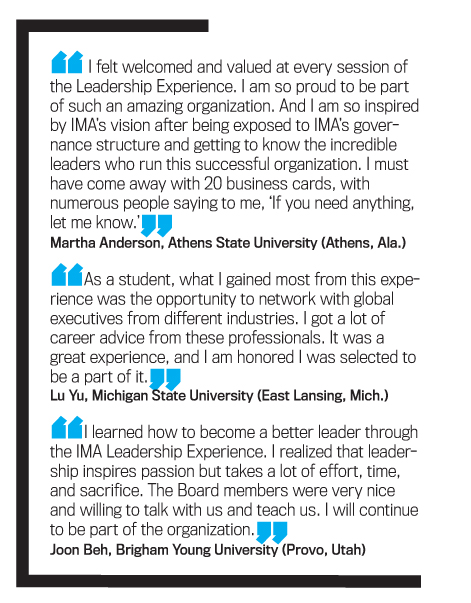 This program exposes top students to governance and leadership skills that are vital for long-term career success. The students spent three days networking with and learning from IMA Board members and staff. They also attended chapter meetings, committee meetings, and the Global Board meeting. Each student provided a heartfelt statement about his or her experience at a special recognition breakfast prior to the start of the Board meeting. Board members said their meetings really benefited from involving the next generation of leaders. The students appreciated the opportunity to have personal time with prominent industry leaders who now will serve as their mentors and career advisors.
The unique IMA Leadership Experience program has received kudos from both participating students and business leaders (see "Praise for the IMA Leadership Experience Program").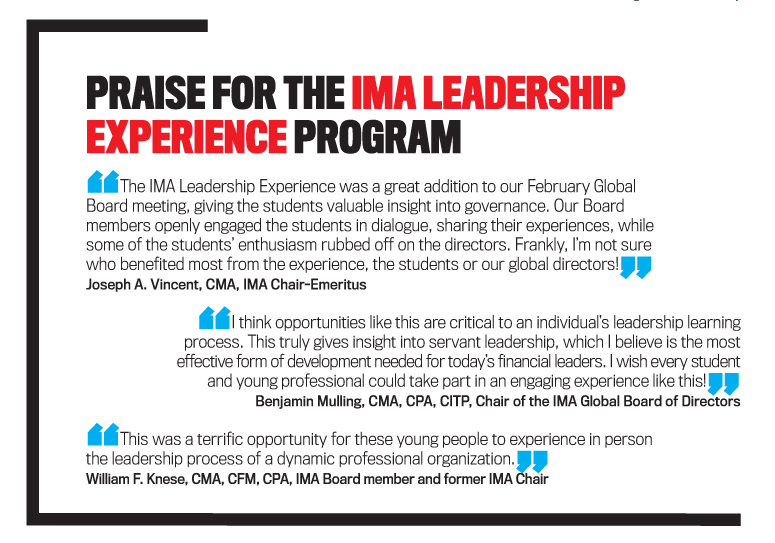 HOW TO APPLY
For the next IMA Leadership Experience event, IMA will send information to key contacts at IMA Endorsed Schools in September. The deadline for applications will be October 30, 2015. This opportunity is available only to students at IMA Endorsed Schools. The IMA key faculty contact at each Endorsed School can nominate interested students who are junior, senior, or graduate students and who can take the time in February 2016 to attend the IMA Global Board meeting. The nominated students must complete an application, watch a specific Leadership Academy webinar ("Successful Conflict Negotiation"), write a personal response to the question related to the webinar that is listed on the application, and provide a recommendation letter from a professor or employer focused on their leadership abilities and potential. IMA's Volunteer Leadership Board Committee will review the applications and select the best qualified candidates who they believe can become future leaders of IMA.
For additional information about the IMA Leadership Experience, please contact Pat Stefanczyk, IMA vice president of governance and volunteer service, at pstefanczyk@imanet.org.
For more information about student scholarships, awards, and competitions, please visit www.imanet.org/student-recognition. To learn more about educator awards, see www.imanet.org/educator-awards.