NONTRADITIONAL COLLEGE JOURNEY
A Midwesterner, Ben was born outside Detroit and moved to a small town in central Kentucky when he was about 11. After his parents split up when he was 15, Ben and his older brother moved with his mom to Ohio, where he completed high school (in typical overachiever fashion, a year early) at Clinton Baptist School.
When it came time for college, Ben decided to attend the nearby University of Cincinnati, where he initially wanted to pursue an engineering career. "I really thought that would be my major," he recalls. "But I took Intro to Engineering, and, about three weeks into it, I realized it wasn't for me. One of the reasons is because I wanted all the answers to be black and white—I didn't like the uncertainty of it, the lack of absolutes. I liked knowing that the answer was correct when I finished solving a problem. However, it was that lack of absolutes, of no one way to solve a problem, which eventually drew me to management accounting."
Ben found his way into accounting through a college career fair. A representative from Coopers & Lybrand asked Ben if he'd ever considered accounting. When Ben said no, she suggested that he enroll in a Principles of Accounting class. "Big surprise: I loved it, so I switched my major."
It was a smart decision. Ben earned his associate in applied science (AAS) degree from the University of Cincinnati in 2001 after being named the "Most Outstanding Graduate" for his program. Immediately afterward, he started his B.S. degree in accounting at Northern Kentucky University. Geography and other matters spurred on the decision to switch schools. Most significantly, Ben had recently married his high-school sweetheart, Anna, and the couple had settled in Kentucky. The move across the river (about 10 miles from Cincinnati) meant that Ben would have to pay out-of-state tuition in Ohio, while at NKU he was considered an in-state student. "The choice was easy," he says.
Ben excelled as an accounting student at NKU; he also worked full-time, something that he also did while pursuing his AAS degree (and later his MBA). "I never had the luxury of being able to go to school full-time," he notes. "I married young and had a family to support, so I went to school four nights a week and worked during the days."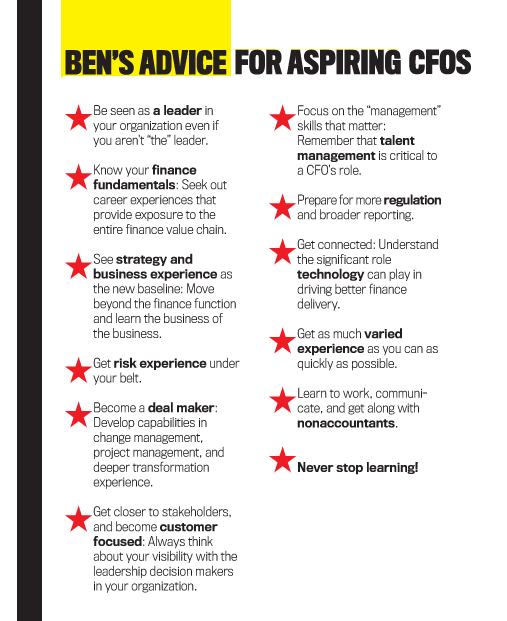 Ben's first job was at Makino, Inc., a machine tool manufacturer, as an inventory specialist. Even in his first professional position, he followed a proviso that had been instilled in him since his youth: volunteer for everything. He explains, "My father was a pastor, and my mom was a teacher of the year in Kentucky. Growing up, I was always encouraged to try new things and especially to step out and step up when help is needed, even if I didn't really want to. I was forced into leadership positions at a young age, and this helped me become more comfortable with leading others and with change, both of which played a big part in my success later on in my career."
Ben has passed that same passion for volunteer service to his own family, including his three young children ages 11, 9, and 6. "They don't like it all the time, but they know that it's important to give service, to give back—at church, at school, in your community. Everything can't always be about you," he emphasizes.
In that spirit, Ben was always looking for opportunities to work with different types of people from various areas throughout his company, an attitude that allowed him to gain a variety of experiences very quickly. For example, when no one else at Makino wanted the job, Ben volunteered to create an implementation and solution process for the company's conversion from an AS400 system to SAP. Word of his talent spread through the firm, and he became the go-to person for all of the company's policy manuals.
Ben worked at two other companies while he was an undergraduate: Penco, a third-party pension plan administration company, as a staff accountant, and Richwood Building Products, where as an accounting manager he was exposed to various management accounting activities, especially since the company was bought out twice during his tenure. But it wasn't until he graduated with his B.S. degree in accounting in 2003 that Ben made his most daring move so far: to Alaska.
He explains, "The timing just seemed right. Alcoa had just bought Richwood, and they offered me a job in South Carolina. I didn't want to make a move for a job so early in my career, so I declined the offer. My mom and sister had moved to Alaska a few years earlier, so we thought why not move there, too?"
Ben took a job as the accounting manager of Anchorage Baptist Temple, one of the largest churches in Alaska. At this large nonprofit, Ben managed three accounting departments and seven separate entities—including the church, school, two radio stations, two cable television stations, and an advertising agency. The experience made him realize how much he preferred the for-profit world. It also made him want to get a master in business administration (MBA) degree, which he started as one of the first distance learners at Liberty University. At the same time he was pursuing his MBA (and working full-time at ABT), Ben also studied for the CPA (Certified Public Accountant) exam, which he eventually completed in Ohio, along with his CITP (Certified Information Technology Professional) in 2006.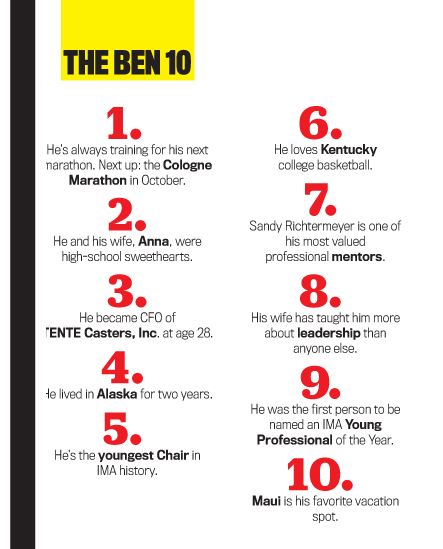 Ben and Anna enjoyed their time in Anchorage, but after two years the couple (and their first child) decided to return to the "lower 48." Ben was offered a job as a senior associate at Martin & Associates, an enterprise resource planning (ERP) vendor in Cincinnati, Ohio, which helped nourish his love of information technology. In this position, Ben worked with CFOs and controllers of many small and medium-sized enterprises (SMEs), discussing their system and financial needs from both an accounting and IT perspective. In short, he became their bridge to the information systems world. It was here that Ben gained valuable experience in change management and continuous improvement, skills that would later play a crucial role in his success as a CFO.
As much as he appreciated what that job taught him about working with clients and managing people, Ben recognized that he preferred a more traditional accounting/finance role. "I knew I had always liked this tech stuff, but my career goal had always been to become a CFO by the time I'm 40." That's one of the reasons he ended up at TENTE Casters.
A YOUNG CFO
Ben drew the attention of the CFO of TENTE Casters, a manufacturer of products for mobility solutions for the institutional and medical markets, through what's become an increasingly common channel: an online résumé. While perusing Monster.com, TENTE's CFO noticed Ben's résumé and gave him a call. After a two-month courting process, Ben was offered the job of controller in October 2006.
It wasn't long before Ben was offered the opportunity to display his full talents. In January 2008, TENTE's CFO departed suddenly, leaving a gap in upper management. True to his philosophy of "stepping up" when called on, Ben eagerly seized the chance to become interim CFO when he was offered the position. It's a lesson that he discusses frequently when he speaks to younger professionals. "You can't always predict your career path," he says. "Change usually doesn't come when expected or slowly over time. Many times opportunities present themselves abruptly, and you must be willing to take a risk and try something new."
That risk paid off: Ben performed well in the interim role, so well that by October 2008 he was offered the position of CFO. He was 28 at the time and had been at TENTE for only two years.
Although he had achieved his dream—even earlier than he had expected—Ben admits that the timing was terrible. The market had crashed twice in the preceding month, the financial markets were wobbling, and sales at TENTE plummeted by almost 25% within the first few months of his taking over as CFO.
"We had to let go of about 30% of our workforce, which was incredibly traumatic. My role was to help keep people focused on the bigger picture," he recalls.
Ben also stayed visible. "I was always walking the production floor," he says. "People were frightened, and I wanted them to know that I was available, that they could ask questions and express their concerns. Courage and composure are incredibly important when you're in a senior financial role. No one wants the CFO to be hidden in his office or freaking out. I tell people, 'When you're in sales, you're allowed to lose your temper. But when the CFO loses his temper, people get scared.'"
The company—and Ben—survived the tumult, and by the end of 2009 the storm had subsided. By 2011, sales had improved by 60%, and over the past few years the company has experienced its best financial performance ever. He attributes this to several things, such as the company's ability to predict, react to, and manage change quickly; using technology and analytics to improve its decision- making abilities; and the great senior leadership team he works with from other areas of the company.
VOLUNTEER LEADERSHIP
Ben believes he's fortunate to have experienced such turmoil so early in his career, a career that he attributes in part to two things: holding his CPA and his CMA® (Certified Management Accountant) certifications. He's very clear about what each of these credentials has given him. "The CPA got me my job—that's why the CEO asked me to be the interim in the first place—but the CMA has helped me keep my job."
Ben's decision to get his CMA coincided almost exactly with his being appointed the interim CFO. He had started studying for and had taken Part 1 of the exam in 2007, but the transition to the CFO role, he admits, "made me realize what I was missing. I recognized that if I were going to do this job, I would need more training."
Ben ramped up his self-study routine and by October 2008 had passed all three parts of the CMA exam (he was exempt from one part because of his CPA). Continuous learning has been a philosophy that Ben has lived by his entire life. "You can never stop learning, and that's especially important as a CFO," he says. "The environment around you is always changing, so you must change with it to be effective and remain relevant."
It wasn't the first time that Ben had considered becoming a CMA. He'd known about the certification since becoming an IMA member in 2001 as a student at the University of Cincinnati. He allows that he initially joined IMA because he wanted to put something on his résumé. "Being a member showed that I was paying attention to my career." Unlike many IMA members—and, frankly, most IMA Chairs—Ben wasn't actively involved in his local IMA chapter, which he acknowledges is fairly small. What vaulted Ben into the upper levels of IMA service was his being tapped to serve on IMA's inaugural Young Professionals Committee in 2008. That experience introduced him to many senior IMA volunteer leaders and staff. Along with the networking that resulted, Ben was encouraged by the organization's commitment to engaging different generations.
He recalls, "The first time our Committee met with the full IMA Global Board, we were pretty intimidated. Here we were, a bunch of 20- and 30-year-olds, bluntly telling these much older members what they and IMA could be doing better."
The next year, an IMA colleague encouraged Ben to apply for the Board. He remembers being "shocked" when he was selected since he was the youngest Board member at that time. "I was 28 years old, and I didn't quite know how to interact with these folks, many of whom had been in the profession for 40 or more years. It was both a very humbling and nerve-wracking experience to have this honor to serve with them."
One of those experienced professionals Ben met was Sandy Richtermeyer, then IMA Chair-Elect, who had taken notice of his career. "Sandy was on the Planning & Development Committee with me, and she took me under her wing. She was a tremendous encourager and one of my greatest mentors." (She also was a professor at Xavier University, located just a short distance from Ben's hometown.)
Ben learned a great deal by serving on that Committee, particularly in the areas of strategy execution and risk management. "The discussions we had really taught me lessons that I was able to bring back to my job at TENTE. I learned how to appreciate other people's perspectives and that you don't always have to be the first person in the room to talk."
Following his service on Planning & Development, Ben moved to Performance Oversight & Audit for three years, where, after serving in an interim role for a year, he was asked to become chair of the Investment Subcommittee. In 2012, he was honored with the first IMA Young Professional of the Year award.
Shortly afterward came Sandy's next suggestion to Ben: Apply to be IMA Chair. "I thought it was such a long shot, but I did it anyway. It was part of my commitment to the idea that when you're given the opportunity to lead, you should step forward."
Ben wasn't surprised that he wasn't selected as Chair that time. Luckily, it didn't stop him from applying for the Chair position the following year, in 2014. He smiles, "I'll never forget the Nominating Committee meeting when Joe Vincent came up to me and told me that I had been selected as Chair-Elect. My first response was 'Are you kidding?'" Joe wasn't kidding. And that's a good thing because, from Ben's perspective, his appointment as IMA Chair says a lot about IMA and its commitment to raising new leaders and accepting new ideas.
INSPIRING OTHERS
Thinking about his upcoming year as IMA Chair, Ben plans to focus on three priorities. First, he intends to further cultivate IMA's international presence. In pursuit of that goal, he spent two weeks in China this April to visit with chapters, review course providers, educational institutions, and corporations to strengthen these affiliations and, equally important, spread the word about management accounting, IMA, and the CMA. He also plans to visit the Middle East during his term as IMA Chair.
Ben returned from the China trip even more firmly committed to IMA's international growth: "I want to inspire other management accountants around the world to push themselves. I want them to see that you don't have to be 70—or 60 or 50 or even 40—to take on a leadership position."
Second, Ben is committed to helping IMA make better use of technology. He cites the website improvements, the redesign of Strategic Finance, and the increased use of social media as a few examples. "I love the fact that we created an app for the Student Leadership Conference last year and one for the Annual Conference & Expo this year," he exclaims. "That's the way things are moving these days, and it's critical that IMA stay on track with technology so that our members see that we're in touch with the latest developments in the field. As a Millennial-generation accountant, I'm highly tuned in to technology and how it's changing our world. It will be important for IMA to maintain and build upon this commitment to new technology in order to engage other upcoming Millennial accounting and financial leaders in the coming years."
Third, Ben wants to increase the association's engagement with students and young professionals. He's encouraged by the growing number of young professional and student members, and he'd like that trend to continue along with the formation of new student chapters. In order to accomplish this, he believes, the association needs to continue to develop tools that students and young professionals can use to further develop their careers, including providing networking opportunities, leadership training, career development tools, and more.
Despite his hectic life as a CFO and IMA volunteer leader, Ben finds ways to relax. About four years ago, he took up competitive running, starting slowly with 5Ks and 10Ks and gradually moving up into half marathons and now full marathons. He has run four marathons so far and is currently in training for the Cologne, Germany, Marathon in October. He also considers himself a devoted University of Kentucky basketball fan (and has even been caught checking game scores at Board meetings) and, because of his young family, spends most of his weekends coaching or watching his kids play soccer, youth basketball, and various other sports.
Ben also serves as a deacon and the treasurer of his church, a commitment to servant leadership that he shares with his wife, whom he considers his "biggest inspiration."
Anna, in fact, has taught Ben a lot about what it takes to inspire others. Even though Ben admits that they have very different leadership styles, he says that his wife "always builds me up and never puts me down. She has taught me as much about leadership as anyone has, and it's a privilege to lead and serve with her by my side every day."
Building up others is one of the roles of any great leader. But Ben knows that leadership isn't always easy. "Leadership is a lonely place. People can criticize you if you have something they want, so it's important to not let it get to you and, especially, to find someone who encourages you."
Ben hopes to encourage IMA members with his energetic leadership style and vision. And he wants people to know that opportunities like this are everywhere. "Leadership is there for the taking. You don't have to wait 40 years to get involved—in IMA or anywhere else."